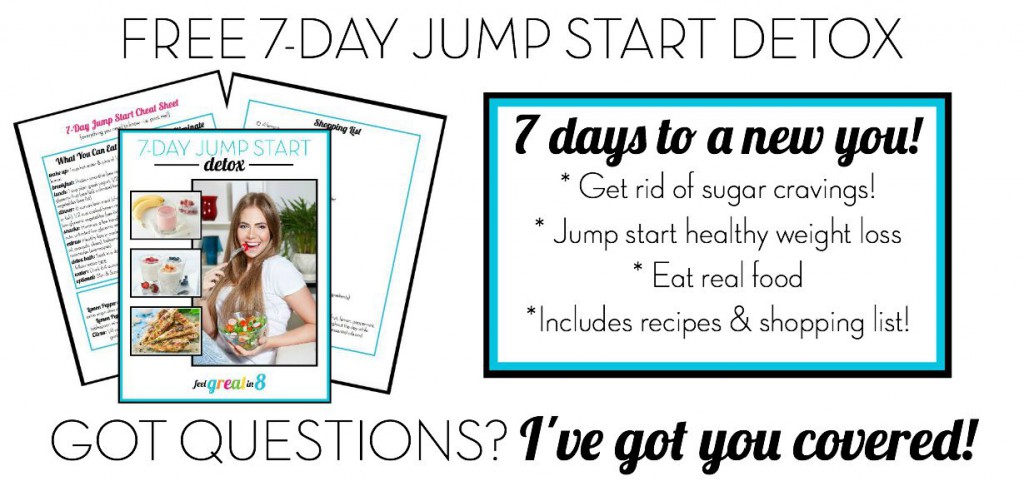 Here are answers to the questions you might be asking. If you have any other questions, don't hesitate to email me! Tiffany – tiffany@feelgreatin8.com
IS THIS A JUICE ONLY CLEANSE?
No! This is one week of eating just clean, real food. You'll drink smoothies, eat fruits and veggies, lean protein, and more. I'm not a fan of starvation cleanses – nobody likes feeling hangry!
WHAT DO I EAT?
When you join the cleanse I'll email you a PDF file with exactly what to eat each day. It even has a shopping list, so you'll have everything you need.
DO I HAVE TO FOLLOW THE PLAN EXACTLY?
How strict you are is up to you. The better you are at sticking to the plan for the whole 7 days, the better you'll feel at the end.
WHAT DO I DO AFTER THE 7 DAYS ARE OVER?
Once the detox week is over, your cravings for sugar and other carbs should be way less, or just about gone. That sets you up perfectly for continuing with a lasting healthy lifestyle. If you need help transitioning from the detox to real life, I'd love to have you join my 8 week Feel Great in 8 Challenge. You can find out more about that right here.
WILL I LOSE WEIGHT ON THIS DETOX?
Weight loss does not happen in the same way for everyone. It depends on your genetics, hormonal balance, past history, metabolism, etc. Remember that this program is about a fresh start for your body – you're working towards the best version of you possible, and that's about much more than weight loss. Any long lasting change takes time to establish, and healthy eating is no exception. If you stick with it, you'll eventually see results.
WILL I HAVE HELP?
I'm here cheering you on every step of the way! And, after your detox week is over, I'll still email you weekly with all my best motivation, healthy recipes, and healthy tips. You are also welcome to email me anytime for help and support. Really. I've got your back. Need even more support? Invite a friend to join you! Just make sure your friends join through the Feel Great in 8 blog so they don't miss any important info!