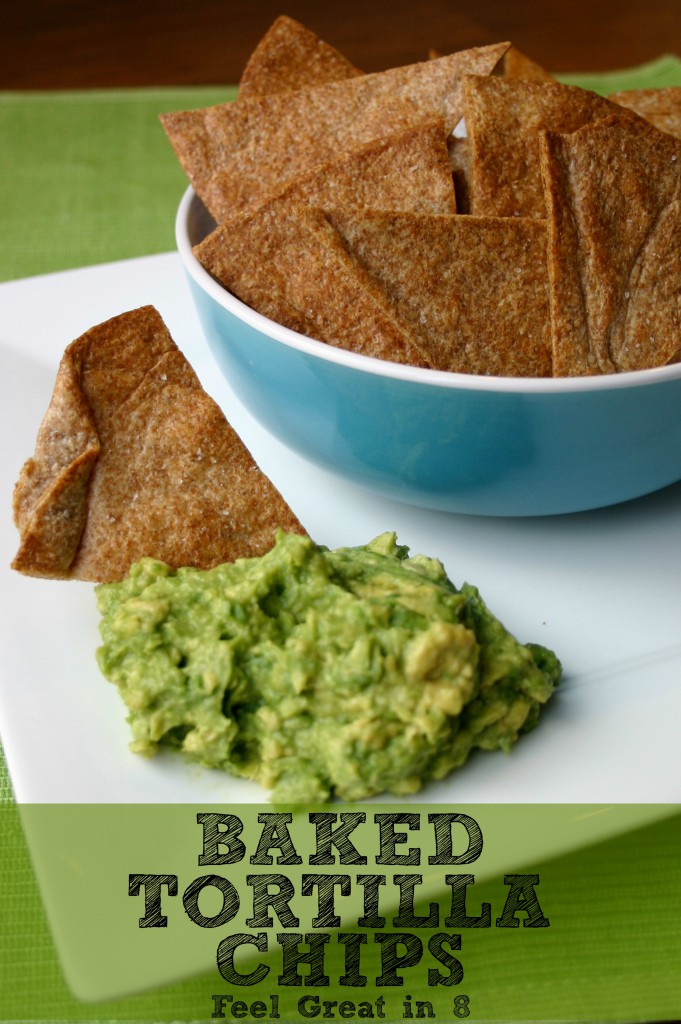 One question I get fairly often, is why tortilla chips are on the Feel Great in 8 unhealthy list. People mention the short ingredient list – some brands even only list corn, salt, and oil. The problem is, that the tortillas are fried in that oil which puts them on the unhealthy list with other fried items. Don't worry though, I have an delicious solution!
These homemade baked tortilla chips will still give you the salty crunch you are craving, but won't make you lose points and will help with your fiber intake! They are even great at scooping healthy salsa and guacamole. YUM!
Baked Tortilla Chips
Ingredients
1 Tablespoon Olive or Avocado Oil
Coarse Sea Salt
*You can also use store bought whole wheat tortillas, or corn tortillas.
Instructions
Preheat oven to 350 degrees F. Line the bottom one or two baking sheets with foil or parchment, or lightly coat with oil.
Very lightly brush or spray both sides of each tortilla with oil. Stack the tortillas in a pile and cut into 8 wedges or triangles.
Arrange the wedges on the baking sheet in a single layer. Depending on the size or your cookie sheet, you may need to use more than one sheet. The chips won't crisp as well if the wedges overlap. Sprinkle the sea salt over the tortillas, making sure each wedge gets a touch of salt.
Bake in the preheated oven for 8-12 minutes. Check the chips at 8 minutes and rotate the pans if needed to avoid burning in hot spots. The chips are done when the edges are crisp and dry. They will still be slightly flexible in the middle, but will continue to crisp as they cool.
Remove the trays from the oven and let cool on the tray for a few minutes. As they cool, the chips will become crisp all the way through. Test one after they are mostly cooled and if it isn't a crisp as you would like, return the tray to the oven for 2-3 more minutes.
Once they are mostly cooled, remove them from the tray and enjoy. Store any leftovers in an airtight plastic bag or container.
Notes
{serving size = 8 chips - recipe makes 4 servings}

153 calories, 10.5g fat, 13.6g carbs, 2.3g fiber, 2.6g protein

*Actual nutrition information may vary based on exact ingredients used. Find this recipe on MyFitnessPal as FG8 Homemade Baked Tortilla Chips