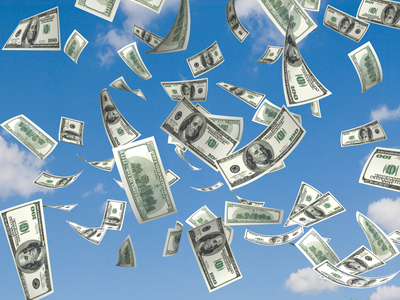 First, here are a few basics you need to know…
* Prize money amounts vary from challenge to challenge based on the number of participants. I can't guarantee a certain amount of prize money and I don't know the prize money amount for each challenge until registration is complete.
* I reserve the right to decide how to divide prize money amounts for each challenge.  I put careful thought into this decision for each round. I will announce the prize money amounts by the end of the first week of each challenge.
* Participation in the challenge does not guarantee you will win prize money.
Now that we got all of that out of the way, here is how the prize money will be divided…

UPDATED 12/28/2015
I'm making changes to the way I give out prize money in 2016 with these goals in mind…
* I know cash is a great motivator, but I really want the challenge to be about creating a healthy lifestyle and starting lasting healthy habits, not just about the money. I hope you'll think of your entry fee into the challenge as an investment in you and your health, not as a way to make a buck.
* I'm hoping this change will help switch the focus from perfection to progress. Even if you aren't perfect, every healthy choice makes a difference and all you have to do is keep doing your best until the end to have a chance to win!
With that in mind, prize money amounts will be the same this year, but I will be handing it out differently.

HERE ARE THE DETAILS…

WEEKLY PRIZES: The weekly prize drawing will be based ONLY on the scores reported that week. These are going to be "perfect week" prizes. So, only those with a perfect score for the week will be entered to win a weekly prize.
Again, this weekly prize drawing is based on ONLY the score reported that week, not your overall total. So, even if you have a hard week and report a very low score, you can earn a high score the following week and have a high chance of winning the weekly drawing. I hope this will help you stay motivated to continue improving and to come back after a difficult week.

FINAL PRIZES: EVERYONE who finishes ALL eight weeks of the challenge (i.e. reports points every week) will be entered to win one of the final $100 prizes. Your name will be entered into the drawing once for every point you earn, so more points = a greater chance of winning!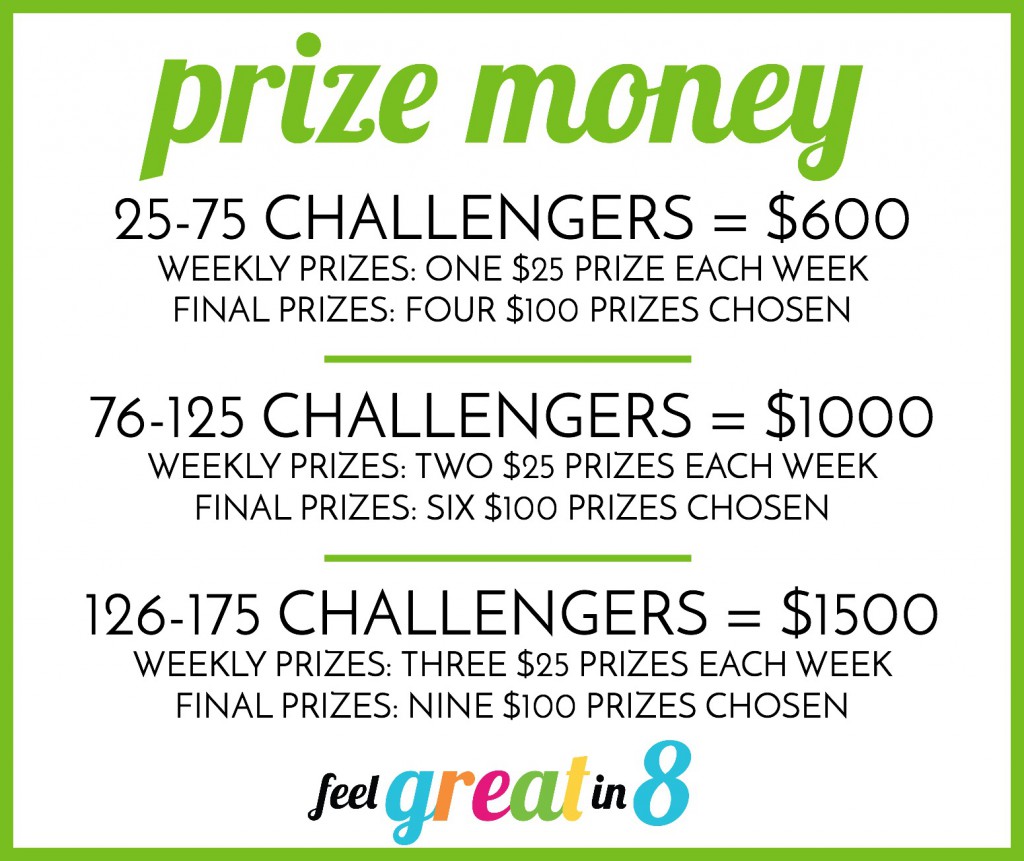 GOOD LUCK! Feel free to email me with any questions! Tiffany {tiffany@feelgreatin8.com}