Last month I finally set out to replace the workout shoes I had been wearing for far too long! You guys, I literally bought and returned 2 pairs before finally finding the perfect pair for me. It ended up being a much harder process than I expected, but I learned so much along the way.  So today I wanted to share with you my best tips for choosing the very best exercise or running shoes for you.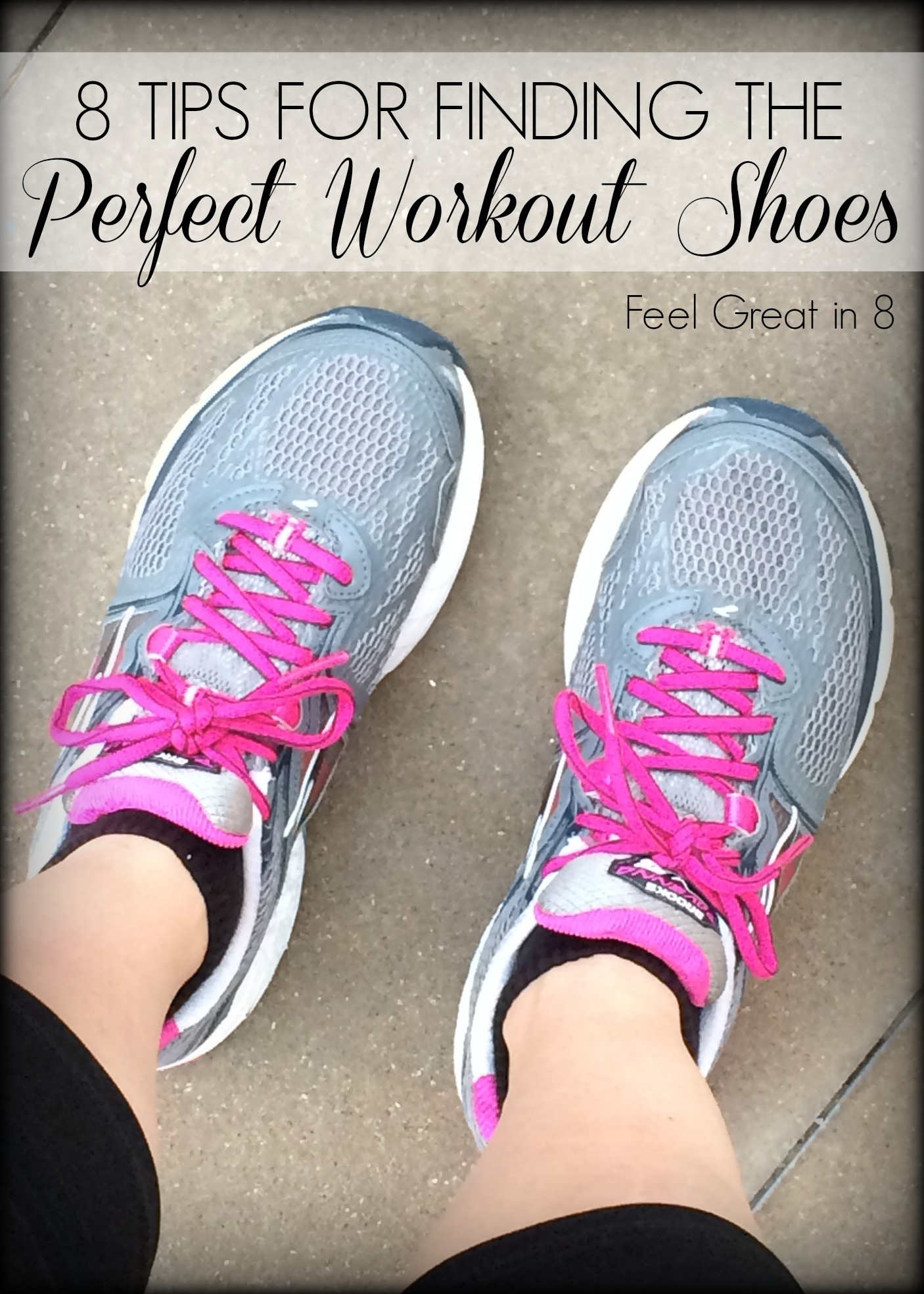 1. Ignore Fashion: The first mistake I made was focusing on how the shoes looked. I started my search looking for the cutest pair and even bought my favorites on amazon. I only had to try them on once and walk around the house to realize that cute does not always equal comfort and fit.
2. Talk to an Expert: To be honest, I fought going to a specialty store to talk to an expert because I thought they could only really help runners, and I am definitely not a runner. In the end though, I broke down and went to a local store called the Wasatch Running Center. The employee I worked with was awesome. He watched my feet while I jogged and even jumped around a little before recommending the perfect shoe for me. I even admitted to him that I hate running and he was super helpful anyway. 🙂
3. Share Your Workout Profile: I was definitely embarrassed to walk into a running store and tell the employee that I hate running and wouldn't be caught dead running, but I am so glad I did. I told him all about the kind of workouts I enjoy and he was able to recommend the right support and analyze my feet based on that information.
4. Dress The Part: Whatever you do, don't walk into your first workout shoe shopping experience wearing a skirt and sandals. Even if it is on your way home from a business lunch. You'll feel silly. I promise. 🙂 You don't have to be fully dressed in your workout gear, but it is a good idea to wear something you can move/run in and at least bring the kind of socks your normally exercise in.
5. Shop in the Evening: Your feet will swell while you exercise, so it best to try on shoes in the evening when your feet are swollen from the day. That way, you'll make sure to get a comfortable fit.
6.  Bring Your Old Shoes: I never would have thought of this, but a friend recommended taking my old pair of shoes in with me when shopping. An expert can analyze where and how your old shoes have worn and use that info to give you recommendations on a new pair.
7. Find a Good Return Policy: Luckily I never wore the shoes I bought on amazon, other than a few minutes around the house, because it would have been a bummer to end up stuck with a pair of uncomfortable shoes. Before you buy a new pair of running or workout shoes, make sure to ask about the stores return or exchange policy. The Wasatch Running Center allows you to return shoes within 14 days as long as they haven't been worn outside. This was a lifesaver for me and I loved being about to test my new shoes out at the gym before being truly committed.
8. Be Willing to Invest: I am about as frugal as it comes, but I am also learning that some things really are worth investing in. Workout shoes definitely fit into that category. I tried going the cheap route, but in the end I realized that comfort and fit are worth spending a little more on. Plan on spending between $60-100 on a good quality pair of shoes. I promise your feet, knees, and back will thank you.
* The store I bought my new shoes from is Wasatch Running Center on Marketplace Drive in Centerville, Utah. They don't even know my little blog exists and I am not being compensated in any way by them, I was just very impressed with my experience there and the employees that I worked with. 🙂