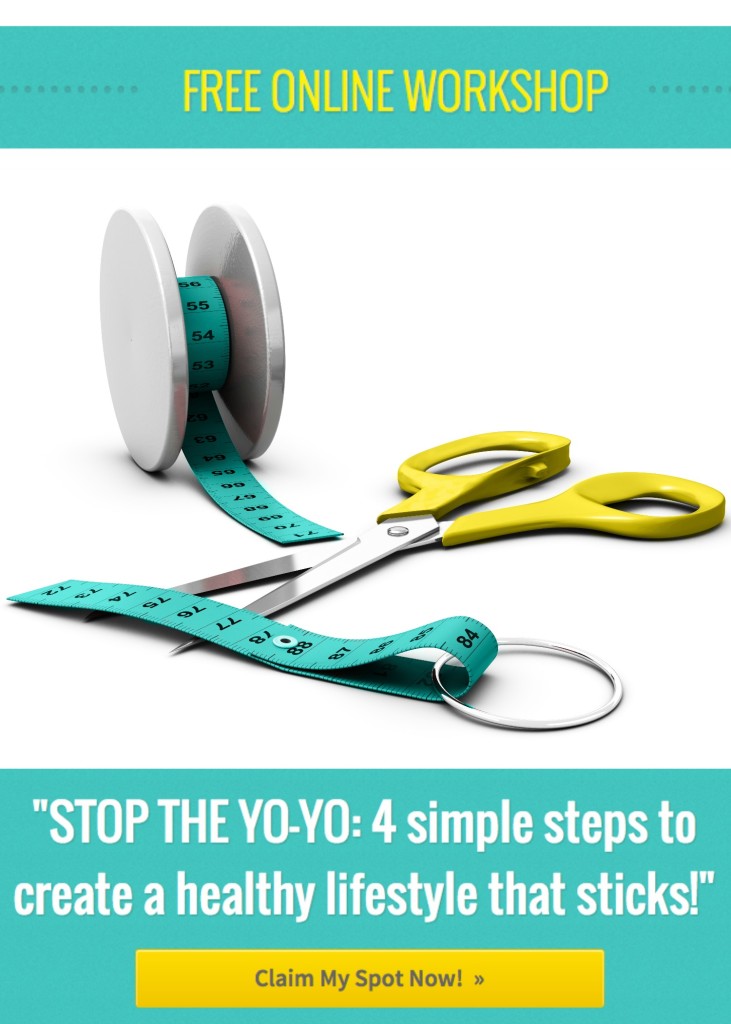 You've probably heard about my FREE LIVE ONLINE WORKSHOP called Stop the Yo-Yo: 4 Steps to create a healthy lifestyle that sticks! I've presented it twice already this year and the response has been phenomenal.
The feedback has been so awesome that I've decided to share the info again – ACTUALLY, I've decided to share it FOUR TIMES!! Yep, you read that right, there are four date/time options this month that will fit any schedule!
If you've ever felt stuck in a cycle of yo-yo dieting, struggled with emotional eating, or felt like you never have the willpower to stick with a healthy lifestyle – this workshop is for YOU!
This free 60 minute live online workshop is designed to help you break free from emotional eating and the never-ending diet cycle.
During the workshop we're going to cover:
• Why your diet is setting you up to FAIL and what to do instead
• My 4 step non-diet approach to feel great, weigh less, and love your body NOW
• How to end emotional eating for good (this simple, yet powerful strategy really works!)
• Small, scientifically proven changes that will make all the difference in your willpower.
There will be 3 other bloggers sharing this registration info with their readers, so I wanted to make sure you got dibs! To register, just click on the time below that works best for you!
Event Name: Stop the Yo-Yo: 4 Steps to create a healthy lifestyle that lasts!

Wednesday, April 6th @ 10:00 AM (MST) 
Wednesday, April 6th @ 8:00 PM (MST) 
Thursday, April 7th @ 1:00 PM (MST)
Thursday, April 7th @ 8:00 PM (MST)
This 60 minute workshop is going to change the way you think about dieting and weight loss. We're going to stop the up/down, on/off, diet/no-diet cycle once and for all and finally create a healthy, happy life you love.
And, if you've been struggling with emotional eating or "no self-control", guess what? I'm going to show you some simple, scientifically proven strategies to overcome those challenges for good.
Can't wait to see you there!!
xoxo, Tiffany
P.S. These workshops have filled up every time, so make sure you run grab your spot!
P.P.S. You'll notice I'm hosting these workshops along with a few other awesome bloggers. You are welcome to register for any date/time, but registration will close when all the spots are filled, so hurry!