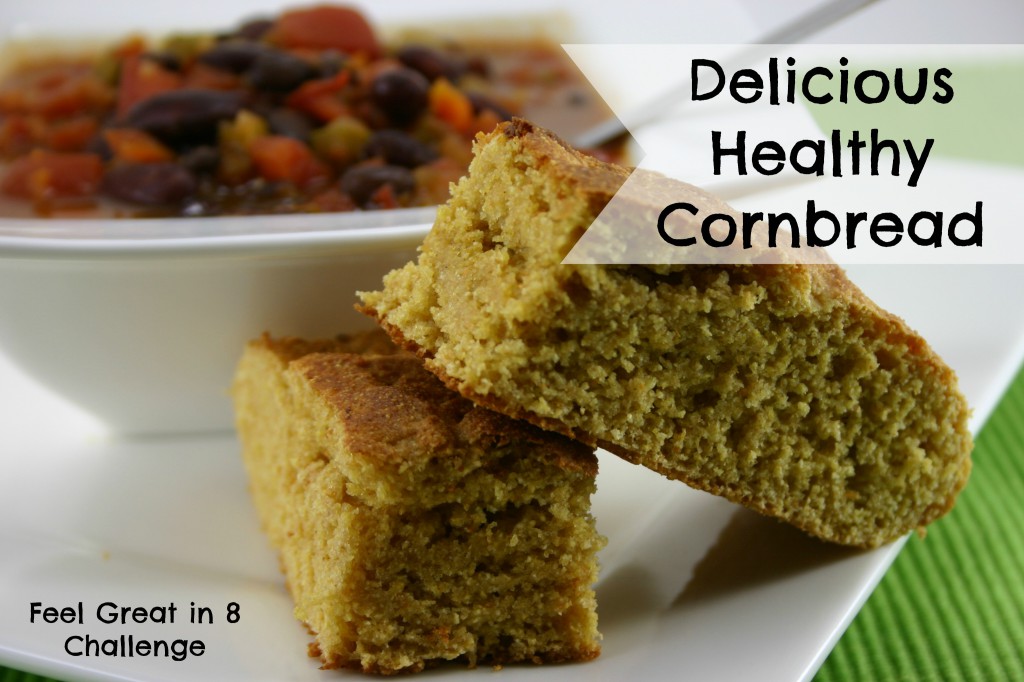 I couldn't bear to leave my
Vegetarian Chili
recipe all alone for long. So, while you are putting together that quick and easy chili, go ahead and throw together some of this super yummy cornbread to go with it. I substituted whole wheat flour, greek yogurt instead of oil and honey instead of white sugar and the final product is much healthier, but still moist and oh so tasty. Plus, it really does take just a few quick minutes to mix up!

Healthy Cornbread
Ingredients
1 cup whole wheat flour
1 cup cornmeal
1 teaspoon baking soda
¾ teaspoon salt
¼ cup honey
¾ cup plain greek yogurt
2 eggs, beaten
Instructions
Preheat oven to 400 degrees F. Lightly grease an 8x8 inch baking dish.
In a large bowl, mix together flour, cornmeal, baking soda and salt.
Add honey, yogurt and eggs. Stir just until blended, do not over-mix.
Spread batter into prepared pan. Bake in preheated oven for 20-25 minutes, or until center of the bread springs back when gently pressed.
Nutrition Information
Serving size:
2 inch square
Calories:
85
Fat:
1g
Carbohydrates:
16g
Fiber:
2g
Protein:
4g