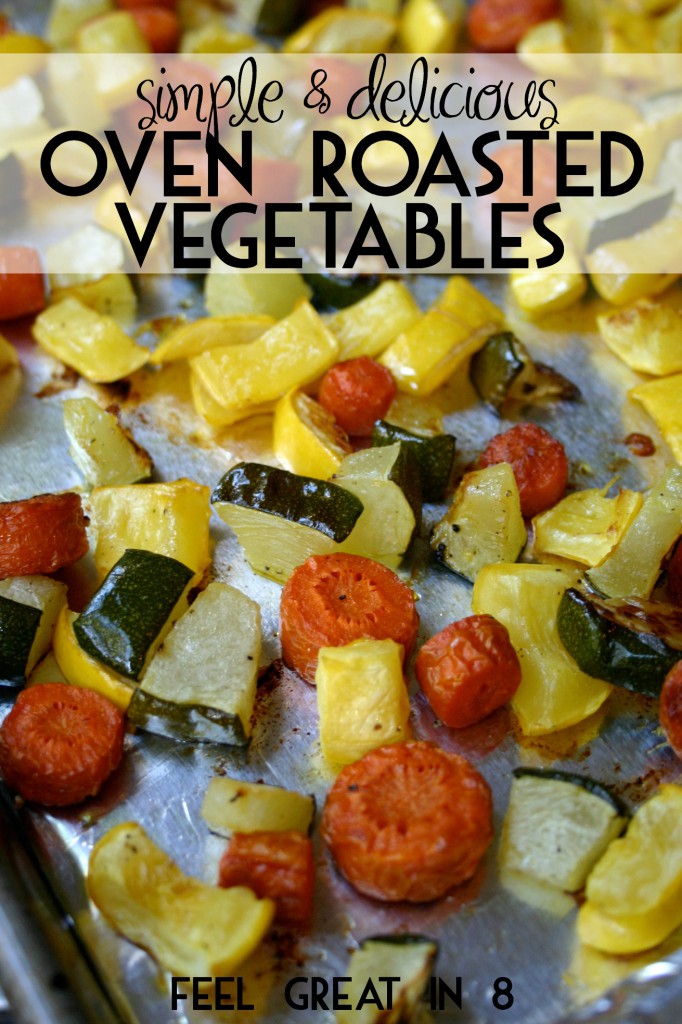 One of my absolute favorite side dishes for pretty much any meal is Oven Roasted Vegetables. You can use just about any vegetable (Asparagus and Cauliflower are favorites in my house), it just takes a few minutes to wash and chop and then the oven does all the work, and I swear, any vegetable tastes better when roasted!
This quick and easy side-dish is also a fantastic way to use up any veggies you have waiting to be eaten in your pantry or refrigerator. Last week I cooked up the last of the yellow squash and zucchini from my dad's garden, and a bag of carrots I had in the fridge. We ate some as a side that night and then I used the rest in a yummy quinoa dish I'll share the recipe for soon.
Anyway, here is the recipe for Oven Roasted Vegetables. Actually, it's really less of a recipe and more of a How to Oven Roast Vegetables, but you get the idea. 🙂
Oven Roasted Vegetables
Ingredients
6 cups chopped vegetables (squash, zucchini, carrots, asparagus, onion, etc)
2 tablespoons olive oil
salt & pepper, to taste
Instructions
Preheat oven to 400 degrees F.
Wash and cut your vegetables into semi-even-sized pieces. No need to peel the veggies, just wash them well. Place on a baking sheet covered in foil.
Drizzle with olive oil and sprinkle with salt and pepper, and then toss to coat evenly.
Bake for 20-25 minutes, tossing once half way through so that they roast evenly.
Check to see that the vegetables are pretty much fork tender and slightly browned and then remove from oven.