Valentines Day is right around the corner and I can hardly wait to celebrate! In honor of this lovey dovey holiday I am teaming up with some of my favorite bloggers to offer one lucky winner an AH-MAZING prize package. Who's ready to win a Romantic Date Night for Two!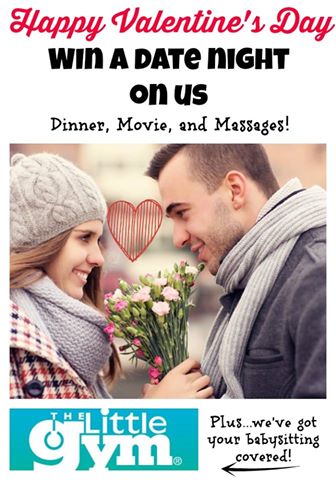 W know that you mama's work hard for your families every single day and you deserve a night out with your main squeeze and that is why we have taken care of all the details for you! And, this isn't just ANY date, this is the ultimate date for you and your special someone! A spa package, a movie with popcorn and drinks, and a fancy dinner for two!!
"That all sounds great….but who's going to watch the kids?"
You don't even have to come up with someone to watch the kids because we really have covered ALL the details! The Little Gym in Farmington is having their monthly PSN (Parent Survival Night) on Friday February 13, just in time for Valentines! Your kids will get to enjoy a Valentine themed super fun night with the coolest instructors around while you and your love bug get to enjoy some much needed alone time!
Prize Package Details:
*$60 to spend at any restaurant at Station Park in Farmington
*Movie tickets for 2, popcorn, and drinks
*3 spa treatments EACH from Planet Beach Spa in Centerville
*The Little Gym Parent Survival Night in Farmington. PSN is a Valentine themed night where the kids will enjoy playing, crafts, games, pizza and a story or movie. PSN is from 6:00-9:30.
To enter this fabulous giveaway just enter the Rafflecopter below and then cross those fingers and toes, wish upon a star, and hope you are the lucky winner! I'll be wishing and hoping you win too! 🙂