How to Raise a Daughter with High Self Esteem: What you SAY won't mean anything unless you DO these 5 things!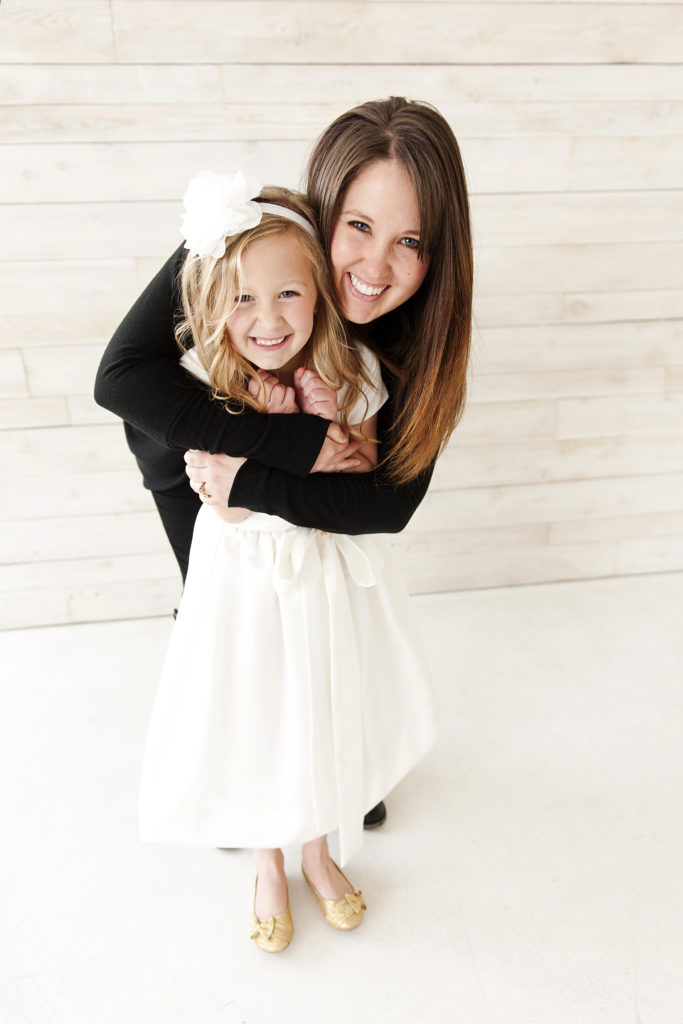 Hello!
I am so beyond excited that you're here reading this post. It's amazing that you want to help your daughter grow up with a positive self image and I hope you'll try these tips.
Together we can start a revolution and teach this next generation of girls what really makes them beautiful! Exciting right?
Before I give you my best tips for raising a daughter with high self esteem, let me tell you a quick background on me.
I struggled with low self esteem and poor body image growing up, pretty much as far back as I can remember. I remember dieting and watching my weight when I was as young as 9 or 10 year old. By the time I started college my dieting had turned into a full blown eating disorder.
Now I am a mom of 4, which includes two daughters, and I desperately want to help my girls avoid all the pain I put myself through for all those years. So I've been researching and doing a lot of thinking about what I can do to help them.
Today I want to share my plan and give you the 5 ways we can raise a daughter with high self esteem.
But first, let me tell you the scary and empowering truth…
Our daughters will not get their self esteem and self worth from what we TELL them about THEM, they will get it from what we tell them and SHOW them about US.
We have a huge responsibility and it all comes down to changing the way we think and talk about ourselves.
So, here are 5 ideas of things you can start doing today.
1. KNOW THIS TRUTH….YOUR VALUE, WORTH AND BEAUTY HAVE ABSOLUTELY NOTHING TO DO WITH HOW YOU LOOK.
"Your body is not your masterpiece. Your body is the paintbrush you use to create your masterpiece." – Glennon Doyle Melton
If we want to have a positive self worth and we want our daughters to have a lasting positive self worth, we can't base it on feeling pretty. Feeling pretty is too fleeting. I can look in the mirror and feel pretty and that can literally be ruined in minutes by the rain or wind, not to mention pregnancy or age.
Lasting self esteem has to come from knowing that our beauty and worth come from INSIDE, not from our appearance.
So, the first thing we need to do is come to know this truth. Do whatever it takes to KNOW it. Affirmations, prayer and a gratitude journal are some things that have helped me.
2. MAKE YOUR WORDS MATCH THAT TRUTH!
"Talk to yourself like you would to someone you love." – Brene Brown
This means no more calling ourselves fat, no more pointing out our flaws, no more negating compliments and no more talking about everything we think is wrong with our bodies. Your daughter won't care about the size of her thighs until she hears your comment on yours.
3. LIVE THAT TRUTH.
This one is maybe even harder than changing your words, but also more fun. This means being too busy enjoying life and as many experiences as you can to care what you look like doing it.
Put on that swimsuit and get in the water! Jump on the trampoline and don't care what jiggles. Get IN the pictures instead of just taking them.
Imagine the amazing example you can be for your daughter this summer as you SHOW her that enjoying life is so much more important than looking skinny or pretty doing it.
"Wholehearted living is about engaging in our lives from a place of worthiness. It means cultivating the courage, compassion, and connection to wake up in the morning and think, No matter what gets done and how much is left undone, I am enough. It's going to bed at night thinking, Yes, I am imperfect and vulnerable and sometimes afraid, but that doesn't change the truth that I am also brave and worth of love and belonging." – Brene Brown
4. SHARE THAT TRUTH WITH OTHERS – ESPECIALLY OUR DAUGHTERS.
I think having specific conversations about beauty with our daughters is incredibly important, but it is just as important to change the way we talk to and compliment each other.
How many of the compliments we give each other and our daughters are appearance based?
If you start paying attention you'll notice how often we miss the chance to compliment achievements, effort and kindness and how often we give compliments about how others look.
If you need help with this one, checkout my post 50+ Compliments that Have Nothing To Do With Appearance.
5. TALK OPENLY ABOUT MESSAGES THAT CHALLENGE THAT TRUTH.
In our society we are bombarded with messages that oppose the truth that our value and beauty have nothing to do with how we look.
The media tells us that all we need to feel good and be pretty is the latest lip color, lightening cream or medical procedure. All around us women and girls are commenting on their weight, or whatever feature they have picked to hate in that moment.
I try to use these experiences as learning opportunities with my daughters. We talk about the damaging messages they hear and I remind them over and over again about the truth.
I wish that I could shield my girls from all of the negative messages that they are going to be faced with them their whole lives, but hopefully being aware of the lies can help them choose to believe the truth.
SO, HERE ARE THEY ARE AGAIN. 5 THINGS YOU CAN DO TO RAISE A DAUGHTER WITH HIGH SELF ESTEEM:
Know this truth: Your value, worth, and beauty have absolutely nothing to do with how you look.
Make your words match that truth.
Live that truth.
Share that truth with others.
Talk openly about things that challenge that truth.
I truly hope you can choose to believe the truth too. That today you'll start feeling the truth that you are beautiful, worthy and valuable no matter your size or shape.
And, I hope that you'll spend this summer having too much fun to care how you look doing it!!
"A mother who radiates self-love and self-acceptance actually vaccinates her daughter against low self esteem." – Naomi Wolf