I hope you are loving all of these giveaways! It is so fun for me to be able to give you the chance to win so many of my favorite things! I wish I could just give you all one of each as a thank you for being such a wonderful part of Feel Great in 8. Just know I am mentally sending all of these awesome things your way. 😉
Today's giveaway includes a whole bunch of my favorite healthy e-books! The authors of these books also write some of my absolute favorite blogs, so definitely take time to check them all out!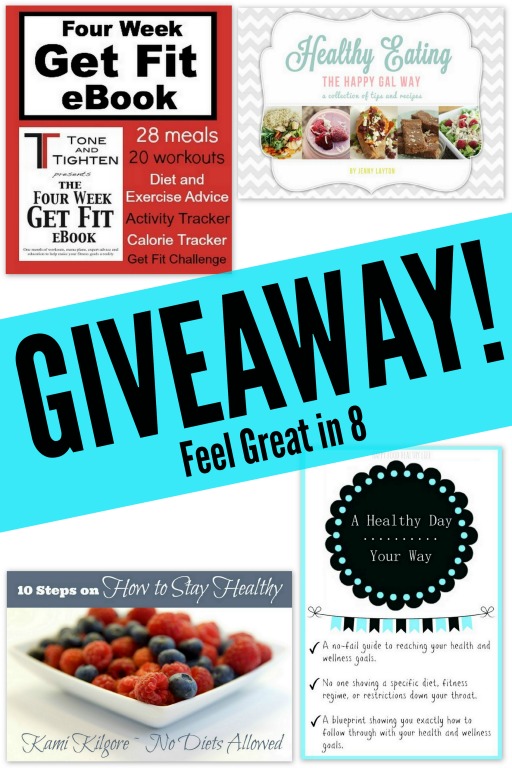 Happy Food Healthy Life – A Healthy Day: Your Way. A simple, customizable, no-fail guide that will help you to reach whatever goal you may have
Tone and Tighten – The "Four Week Get Fit eBook" features chapters on diet and exercise advice, calorie and activity trackers, 28 days of exercises, and four weeks of workouts. Everything you need to eat healthy, exercise regularly, and Get Fit!
The Happy Gal – Healthy Eating The Happy Gal Way. More than a cookbook, this is a guide that tells you what to eat, when to eat it, and how to make it easy.
No Diets Allowed – 10 Steps on How to Stay Healthy. Whether you're just beginning or experienced, these steps can and will help you.  It's time to get and stay healthy. I know you CAN change, but WILL you?
These sites are also great resources for healthy recipes, workouts, and tips that you can use to help you create your healthy lifestyle! I hope you'll enjoy them as much as I have!