No Bake Chocolate Peanut Butter Energy Bites – A healthy snack that tastes like dessert, but is low carb and low sugar plus high in protein and fiber!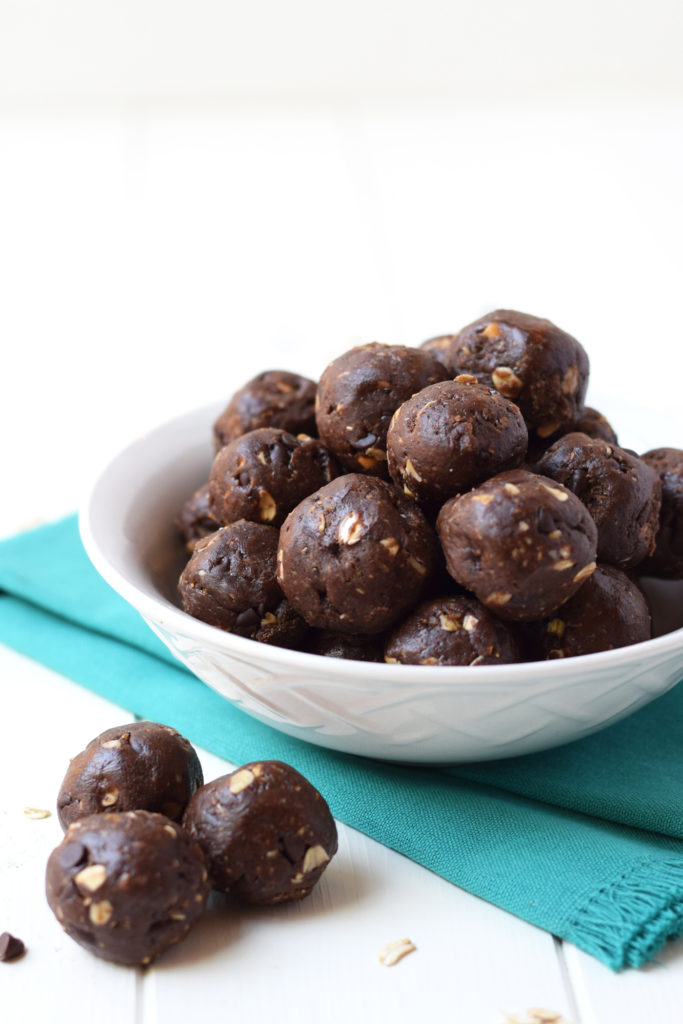 I am a huge fan of no bake energy bites! They are pretty much the perfect snack. Quick and super easy to make and perfect for grabbing on the go or packing along to the pool or the park, plus if you make them right they can pack an awesome nutrition punch!
But, they aren't all created equal. I've tried healthy recipes that taste nasty, and recipes that were delicious, but made with so much sugar they were really more of a treat. Don't worry though, THIS recipe is perfection. Loaded with healthy ingredients so you get lots of protein, fiber, and healthy fats and low in carbs and sugar.
And, they really do still taste like a treat. Who doesn't love a healthy snack that tastes like dessert?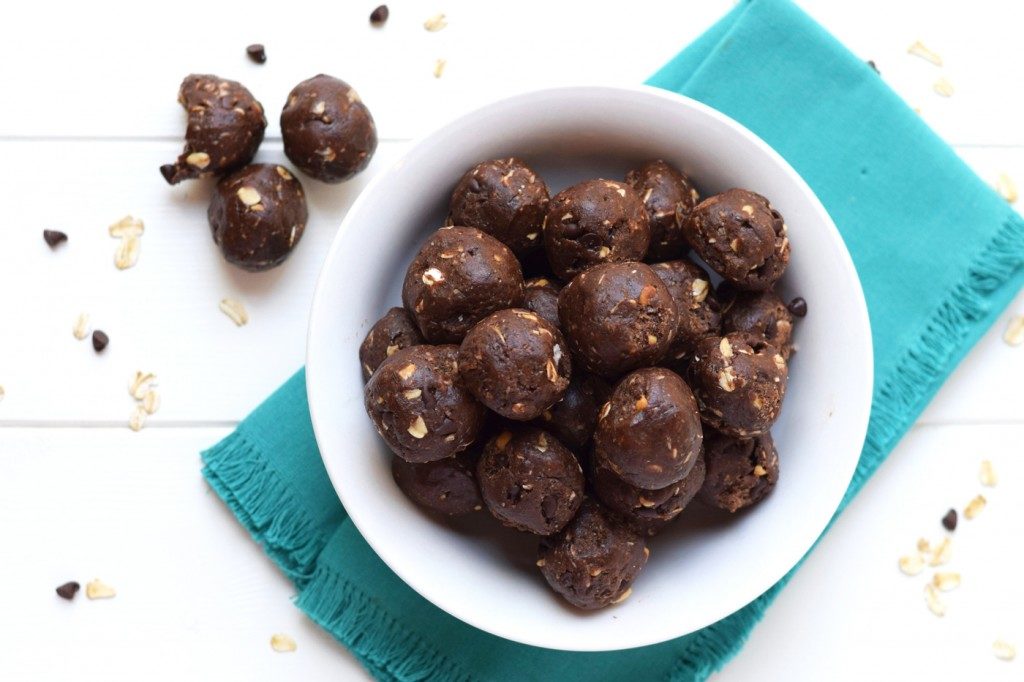 I like to make a big batch on the weekend and keep them in the fridge for the coming week. My husbands grabs a handful as a quick breakfast on his way to work and the kids and I sneak a few almost every afternoon to help keep us feeling full until dinner.
My youngest calls them cookie balls and even my daughter who doesn't love peanut butter loves these. They have no idea how healthy they are!
I hope you'll give these ones a try. I bet you and your family will love them as much as we do!

No Bake Chocolate Peanut Butter Energy Bites
Ingredients
1 cup old fashioned oats, divided
⅓ cup chia seeds
⅓ cup flax seeds
⅓ cup whole almonds
2 tablespoons unsweetened cocoa powder
1 cup mini chocolate chips, divided
½ cup natural peanut butter
⅓ cup honey
1 teaspoon vanilla
Instructions
In a blender or food processor combine ½ cup oats, chia seeds, flax seeds, almonds, cocoa powder and ½ cup chocolate chips. Blend until mixed into a course flour texture.
In a large bowl or a stand mixer combine the flour mixture with the peanut butter, honey, and vanilla. Mix well and then add in the remaining ½ cup of oats and ½ cup chocolate chips. Stir gently until combined.
Use a heaping teaspoon measuring spoon to scoop out each serving and form into a ball.
Store bites in an airtight container in the refrigerator for up to a few weeks.
Nutrition Information
Serving size:
1 bite
Calories:
36
Fat:
2g
Saturated fat:
0g
Unsaturated fat:
1g
Trans fat:
0g
Carbohydrates:
4g
Sugar:
2g
Sodium:
0mg
Fiber:
1g
Protein:
1g
Cholesterol:
0mg
For more Energy Bite recipes, click here: