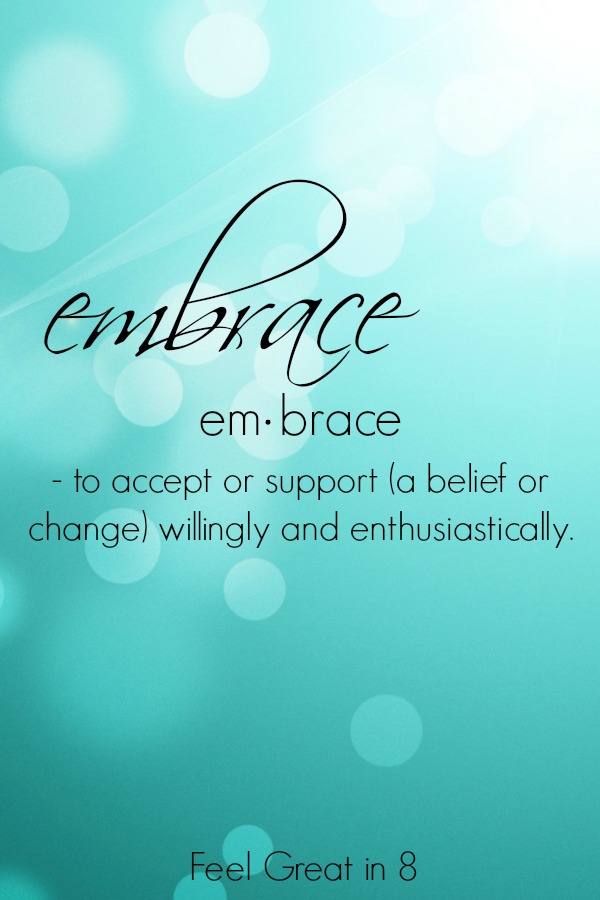 It's a new year so, just like every January, I've been thinking a lot about the things I'd like to do differently in 2015. Goals, resolutions, bad habits I'm ready to tackle…you know the drill.
This year I'm adding something different! Inspired by the amazing Shelly at The House of Smith's, I've decided to choose "one little word" to focus on this year. One word that I can bring to mind to remind me of the things I am working on and the person I want to be at the end of the year.
Bet you can't guess what my OLW (one little word) is! Just kidding, I'm sure you all know me well enough by now to have guessed it…or the giant image may have given it away. 😉
This year I chose the word "embrace"! I'm going to…
* Embrace life with all it's changes and new experiences! I'm the queen of fighting change and then eventually looking back to realize it was, of course, the best thing for me. This year I'll be pushing myself into the new while whispering "embrace" to myself over and over again like a crazy person.
* Embrace the crazy! Speaking of crazy … I am a little nuts because I seem to crave busy. I say yes, and start new projects, and love feeling productive, but then eventually I end up feeling frantic. This year I am determined to lean into, embrace, and be energized by the crazy.
* Embrace each new day. I'm ready to start every day fresh. To forgive myself for the mistakes I made yesterday and embrace the opportunity of each new day.
And, most importantly…
* Embrace who I am! I love this quote by Elizabeth Gilbert, "Embrace the glorious mess that you are!" I think after almost 33 years I am finally getting closer to this one. I'm ready to fully embrace who I am, flaws and all. To embrace the knowledge that I am worthy and valuable exactly as I am.
I've got a good feeling. It's going to be a fantastic year!!
So, have you chosen your OLW for 2015? I'd love to hear what it is!!