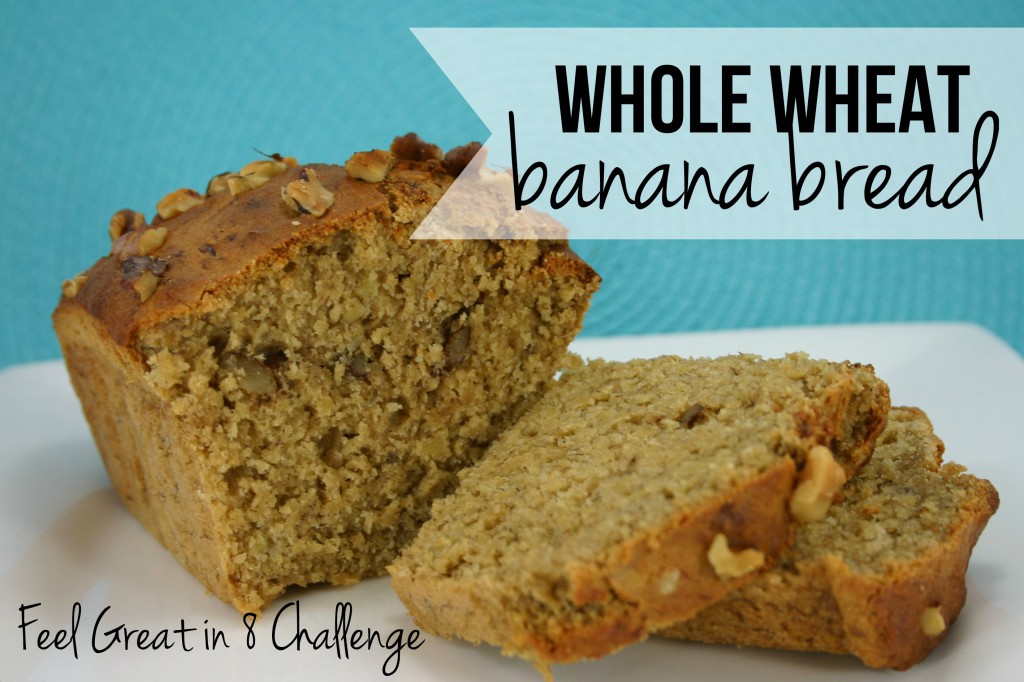 I'm super spoiled with kids who love fruits and veggies, but for some reason none of them eat bananas. Every time I buy a big bunch of bananas for smoothies, I inevitably get some in my Bountiful Basket too. Which, of course, leads to a lovely bunch of overripe bananas on my counter.Luckily, I get excited when I see those nasty brown peels…they mean it's time for these yummy Banana Pancakes…
or, better yet, Banana Bread!
With whole wheat flour, no white sugar, coconut oil and flaxseed, it doesn't get much healthier! And, I bet you won't even be able to tell the difference. It's still just as sweet and yummy as the original.
Whole Wheat Banana Bread
Serves:
1 large loaf or 2 small
Ingredients
2¼ cup whole wheat flour
¾ teaspoon baking soda
¼ teaspoon salt
3 ripe bananas, mashed
¼ cup plain greek yogurt
¼ cup honey
2 ground flaxseed egg substitute*
⅓ cup unrefined coconut oil
1 teaspoon vanilla
* Don't forget to double the egg substitute recipe (i.e. 2 tablespoons ground flaxseed+6 tablespoon water). Or, if you don't have any flaxseed you can just use 2 eggs.
Instructions
Preheat oven to 350 degrees and grease loaf pan(s).
Mix your egg substitute and let sit for 5-10 minutes.
Whisk together the flour, baking soda and salt. In a separate bowl, mix together mashed bananas, yogurt, honey, egg substitute, oil, and vanilla.
Fold the banana mixture into the flour mixture until blended. Do not over-mix.
Pour batter into prepared pan(s). Bake until slightly brown on top and a toothpick, poked into the center, comes out clean (40-50 minutes for a large loaf).
Nutrition Information
Serving size:
1 slice, recipe makes 12 servings
Calories:
175
Fat:
6.7g
Carbohydrates:
28.5g
Fiber:
4g
Protein:
4g