Looking for a sports bra that will give you the support and comfort you need during a high impact workout, but still look cute? I've tested a whole bunch for you and found the best sports bra for large breasts!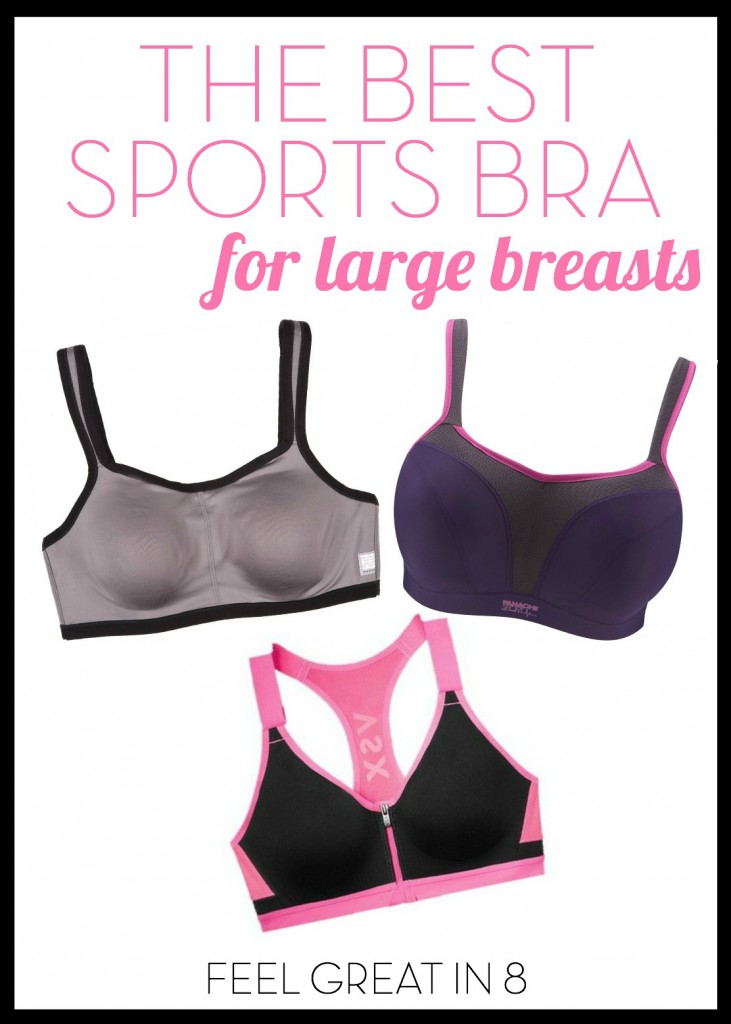 Okay ladies, time for a little bit of embarrassing truth telling. I have larger breasts (36 DD). I come by them genetically, and I got them when I was pretty young. I was always active in one way or another – dance, figure skating, lacrosse, and working out, so I've gone through my fair share of sports bras. Eventually I even resorted to wearing two at the same time to find the support I needed.
Finally a few years ago, I set out to find a good sports bra that would support the girls without squishing them, be comfortable through an entire workout, and even be cute too. I tested a whole bunch of different brands and price points and found a lot that just didn't cut it and few that I really love. So, today I'm sharing my top three favorites with you!
Drum roll please….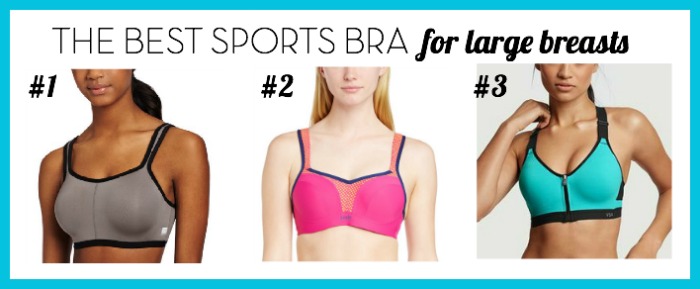 #1 Natori Women's Power Yogi Convertible Sports Bra: This bra is my absolute favorite by a long shot. It is the most supportive and comfortable, it still gives me a cute shape, and it is so well made. I've had my first one for a year and a half now. I wear it and wash it (on the gentle cycle and then lay flat to dry) at least twice a week and it still looks and supports like brand new. Seriously, I can't say enough good about this bra! I LOVE it. It is a little bit pricier (you can find it anywhere between $40 & $70 – the best price I've found is on Amazon), but SO worth the investment. If you get this one, try crossing the straps in the back, and let me know what you think!
#2 Panache Women's Underwired Sports Bra: This is another one that is supportive, comfortable, super well made, and still cute. I like my Natori a little bit better, but this one is a close second. I love that this one has a hook that makes it easier to make the straps cross in the back and the nice wide straps. This one is just about the same cost as the Natori (between $45 & $70 on Amazon), but I really am a firm believer in investing in a good sports bra. I got this one at the same time I got my Natori and it is still going strong too.
#3 Incredible by Victoria's Secret Front-Close: I've heard this one talked about and recommended over and over again, so I finally decided to give it a try. I like this bra a lot. The support is good, it is comfortable and cute, and the price point is maybe a little lower (I watched for a sale and got mine for $35). But, it lands in 3rd place on my list  because the quality just doesn't seem to be nearly as good as my top two. I've only had this one for a few months and I'm already seeing some wear that I still can see in the others. I'll keep you updated, but I just don't see this one lasting me even half the time that my favorites have.
Well, there you have it! The award for best sports bra for large breasts goes to the Natori Power Yogi! I think I might have to buy a lifetime supply of these, just incase they ever stop making them!
Do you have a different favorite? I'd love to hear about it!
xoxo, Tiffany

Looking for more healthy tips?
8 Tips for Making the Most of MyFitnessPal
8 Tips for Finding the Perfect Workout Shoes
8 Tips for Maximum Weight Loss
8 Tips for Fitting In & Sticking With Daily Exercise
*Some links may be affiliates. The product costs the same for you, but I get a small commission. I never recommend anything that I don't sincerely believe in.