These Dark Chocolate Brownies are fudgy and delicious, but they are also a guilt-free, clean eating dessert! No flour, oil, or refined sugar, and no weird beans or veggies!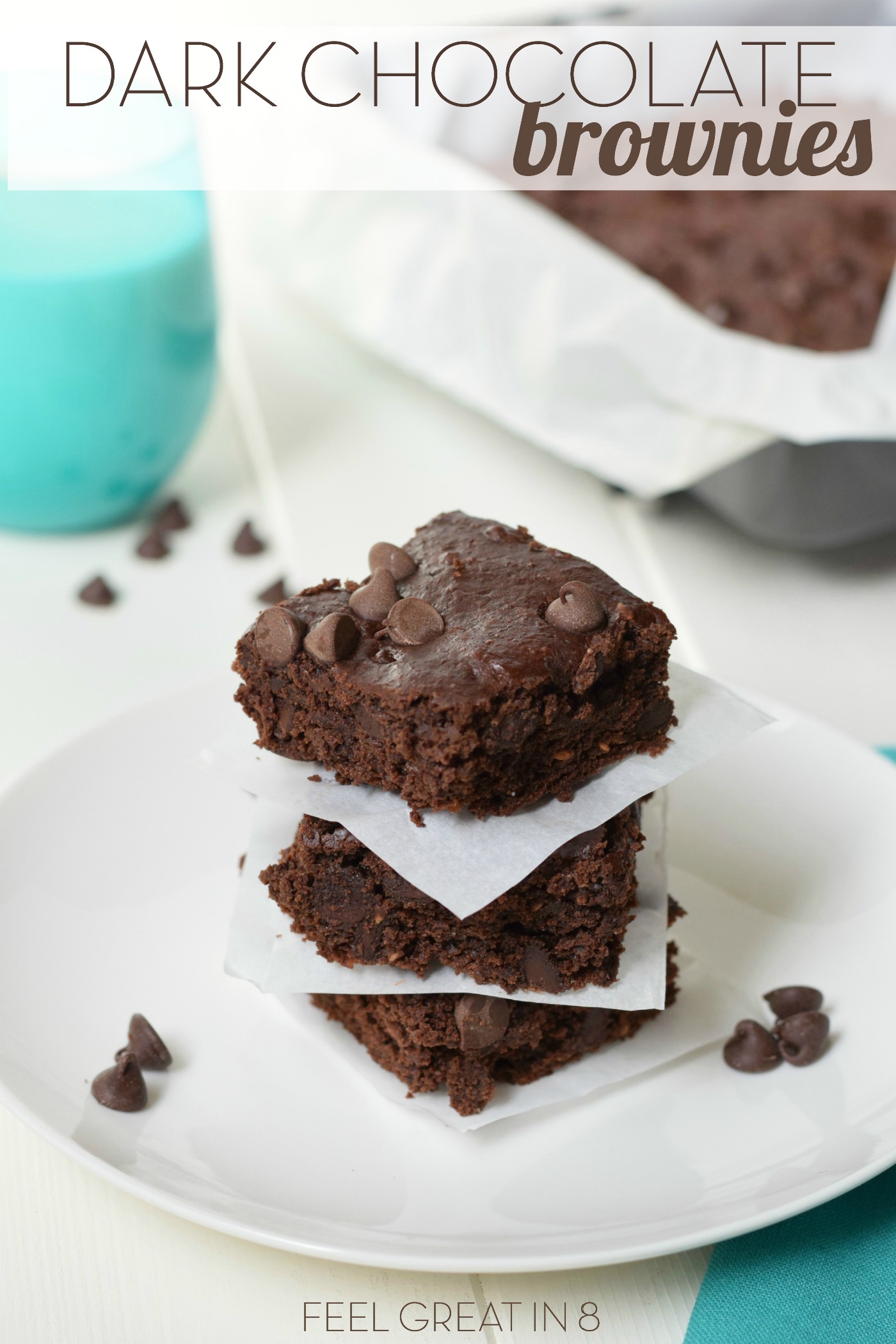 Hello!
I'm so happy you are here for this delicious healthy recipe!
Before I give you this recipe, I wanted to offer you my newest eCookbook totally for FREE! 
I collected 10 of my favorite clean eating dessert recipes (including this delicious brownie recipe) and I just know you are going to love them!
Just click HERE or on the image below and enter your email address and I'll email you a copy.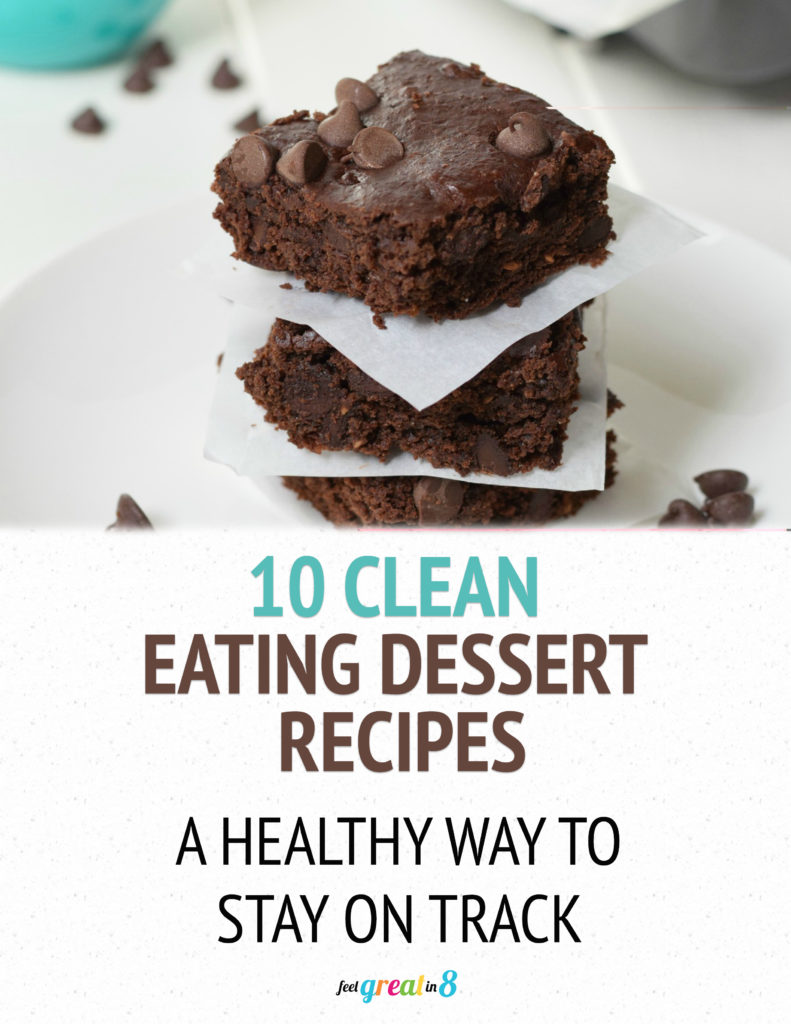 Now that you've requested your free eCookbook, onto the brownie recipe you came for! 🙂
Okay, I know I get excited about a lot of recipes, but you guys! These are healthy, delicious, fudgy brownies – with only 130 calories each, and no flour, oil, or refined sugar! AND, no beans or weird veggies!
There's nothing wrong with adding veggies or even beans to your food, but I just could never get past the black bean in brownies thing. Dessert is supposed to be dessert. And, these brownies are just that!
Sweet and delicious, but without even having to cheat! See…I told you they were exciting! 🙂
Dark Chocolate Brownies
Ingredients
½ cup almond butter (or creamy natural peanut butter)
2 tablespoons honey
3 tablespoons unrefined coconut sugar
1 teaspoon vanilla extract
½ cup unsweetened apple sauce
1 large egg
¼ cup + 1 tablespoon oat flour (oats that have been ground)
¼ cup unsweetened cocoa powder
¼ teaspoon baking soda
½ teaspoon baking powder
⅛ teaspoon salt
½ cup + ¼ cup dark chocolate chips
Instructions
Preheat the oven to 350 degrees and line an 8x8 inch baking pan with parchment paper. Don't skip this step, or the brownies will be super hard to get out of the pan. Plus, with the parchment paper, you can just lift them right out and not have to clean the pan! 🙂
Grind your oats in a blender or food processor (I use and love my Blendtec). Remember to measure the oat flour after grinding the oats.
In a large bowl, beat together the almond butter, honey, coconut sugar, and vanilla.
Mix in the applesauce until combined, and then beat in the egg until just combined.
In a separate bowl, stir together the oat flour, cocoa powder, baking soda, baking powder, and salt.
Using a wooden spoon or spatula, gently mix the wet and dry ingredients together until just combined. Do not over-stir.
Fold in ½ cup of the dark chocolate chips and then transfer the mixture into the lined 8x8 baking pan. Sprinkle the remaining ¼ cup dark chocolate chips over the mixture.
Bake for 20-22 minutes or until light and puffy. If you under-bake just a little they will be softer and more chewy.
Cut into 16 (2 inch) squares. Enjoy guilt free!
Notes
*Actual nutritional info may vary based on exact ingredients used. Find complete info on MyFitnessPal as FG8 Dark Chocolate Brownies.
Nutrition Information
Serving size:
1 square
Calories:
130
Fat:
9.2
Carbohydrates:
14.2
Sugar:
9.2
Fiber:
2.9
Protein:
3.2
Don't forget to request your free eCookbook 10 Clean Eating Dessert Recipes. Just click HERE and enter your email address and I'll send you a copy!

1. Organic Coconut Sugar: This is what I reach for when I need a granulated sweetener. It isn't as sweet as refined white sugar, but is so much better for you and I love the flavor. This organic brand is awesome and you can get a big bag on Amazon for around $5.
2. Blendtec Blender: I know I keep saying it, but I love, love, love my Blendtec! Getting a powerful blender is definitely an investment, but I use mine at least once a day and I love knowing that the 7 year warranty is there. I actually burned the motor out on my first one and they replaced it no questions asked. I use mine for the usual smoothies and batters, but I also love it for grinding wheat into flour and of course making homemade ice cream and frozen yogurt! You can get one new at Costco or on Amazon for around $350, or you can get one refurbished with the original warranty for $280 from Blendtec right HERE.
3. Dark Chocolate Chips: This one can be tricky to find. I'm so excited because I just found this new brand on Amazon! Make sure you look for 70% cocoa or more so you get the awesome health benefits.
* Some links are affiliates. The products cost the same for you, but I get a small commission. I never recommend products I don't sincerely believe in.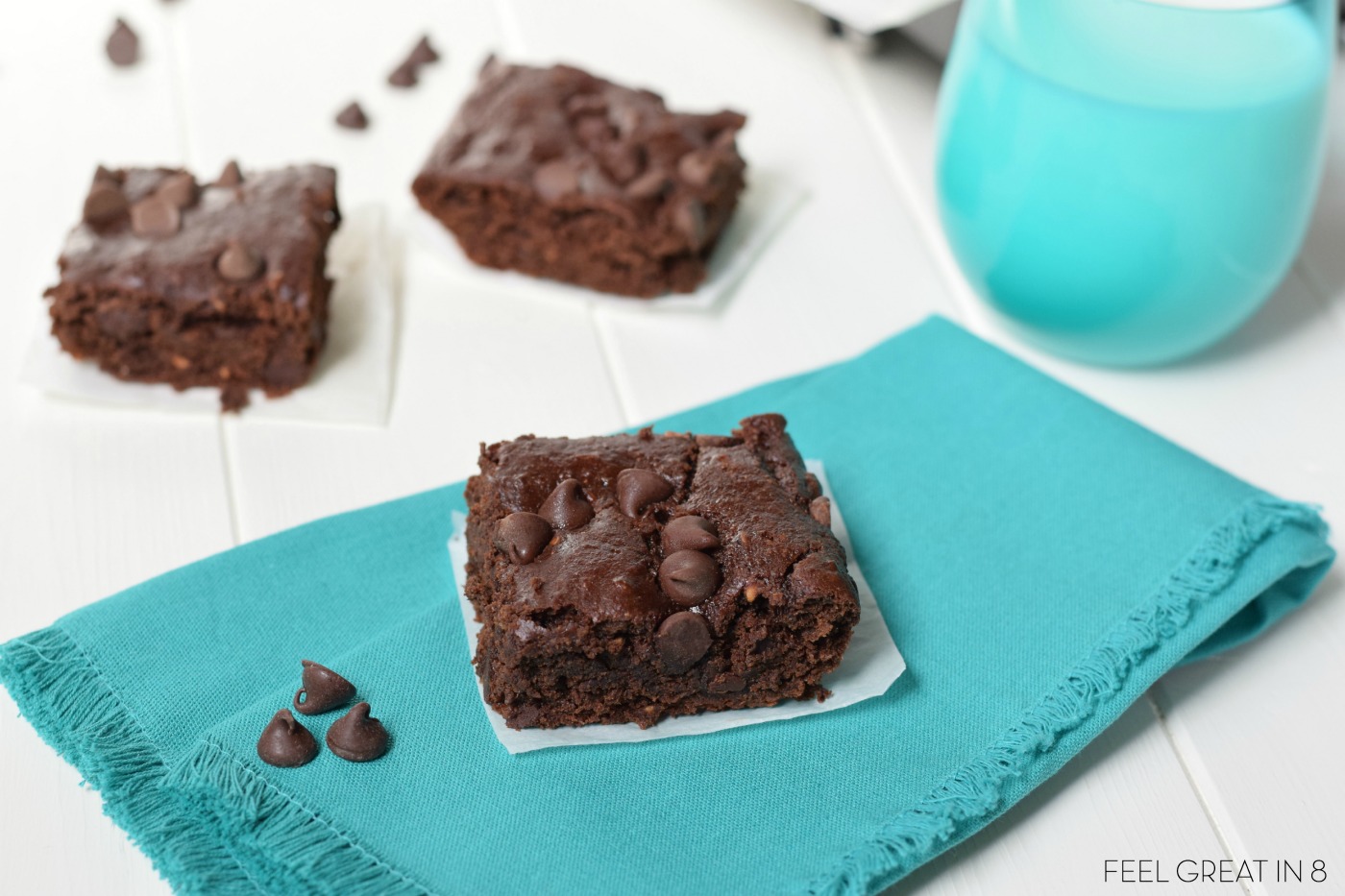 Looking for more healthy real food recipes?
Healthy Dark Chocolate Fudge Tarts
Mini Chocolate Cheesecakes
Dark Chocolate Peanut Butter Apples
Dark Chocolate Fudge Drop Cookies
Healthy Homemade Chocolate