Peach pie and peach cobbler come together in a healthy dessert makeover! This Peach Crumble Pie comes with all the flavor, a flakey crust, and a sweet streusel topping – but with whole grains and no refined sugar!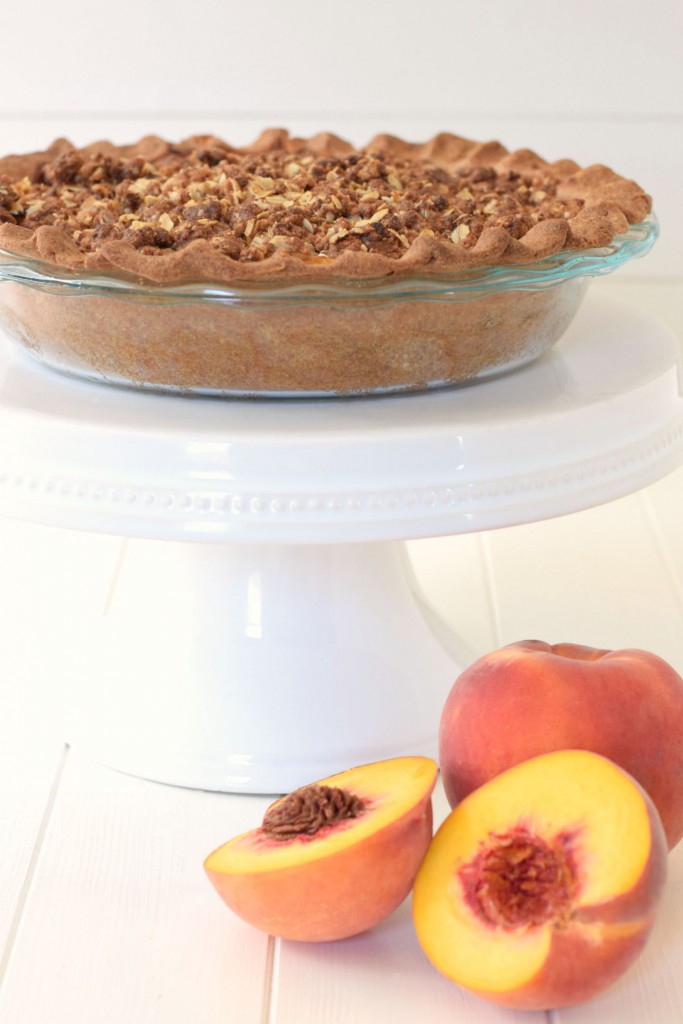 Ever wish you could take the best parts of your favorite desserts and mix them together in one? This Peach Crumble Pie does exactly that! Flakey crust + sweet pie filling + crunchy streusel topping = dessert heaven!
Add whole grains and no refined sugar and you've get dessert perfection! No one will even notice that this delicious dessert got a healthy makeover. I love those kinds of desserts … The kind friends and family will rave about, and be totally surprised to hear is made with healthy ingredients.
Hurry and give this one a try, or add it to the Thanksgiving pie list! You'll definitely want to add this Clean Eating Pecan Pie and this Double Dark Chocolate Coconut Pie too. You have my permission to have a little slice of each. YUM!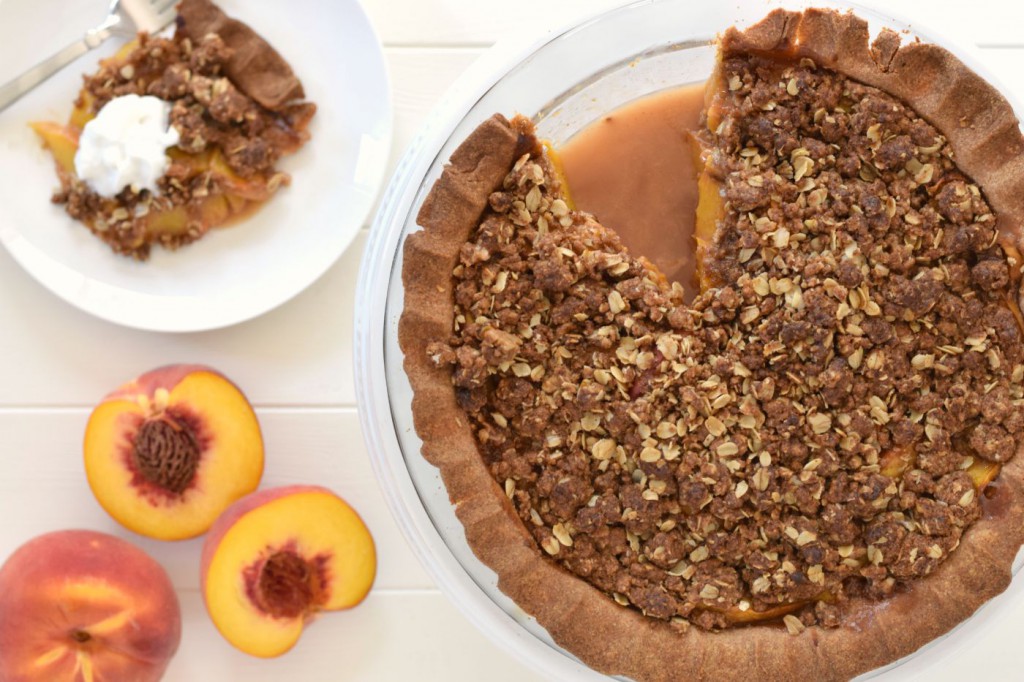 One quick tip before I share the recipe. Make sure to cover your crust with aluminum foil during the last little bit of cooking. You can tell in these photos that of course I forgot when I made it this last time.
It was actually one of those days where so much goes wrong all you can do it laugh. I totally bombed my first attempt at a clean eating cheesecake (don't worry though, the second try was a success and you can find that recipe right here), I burned this pie, broke my tripod, my backdrop tipped over and landed right on this photo setup (just ignore the broken crust)…you get the idea.
Luckily I had a piece of this yummy pie when it was all over! I hope you enjoy this one as much as we do!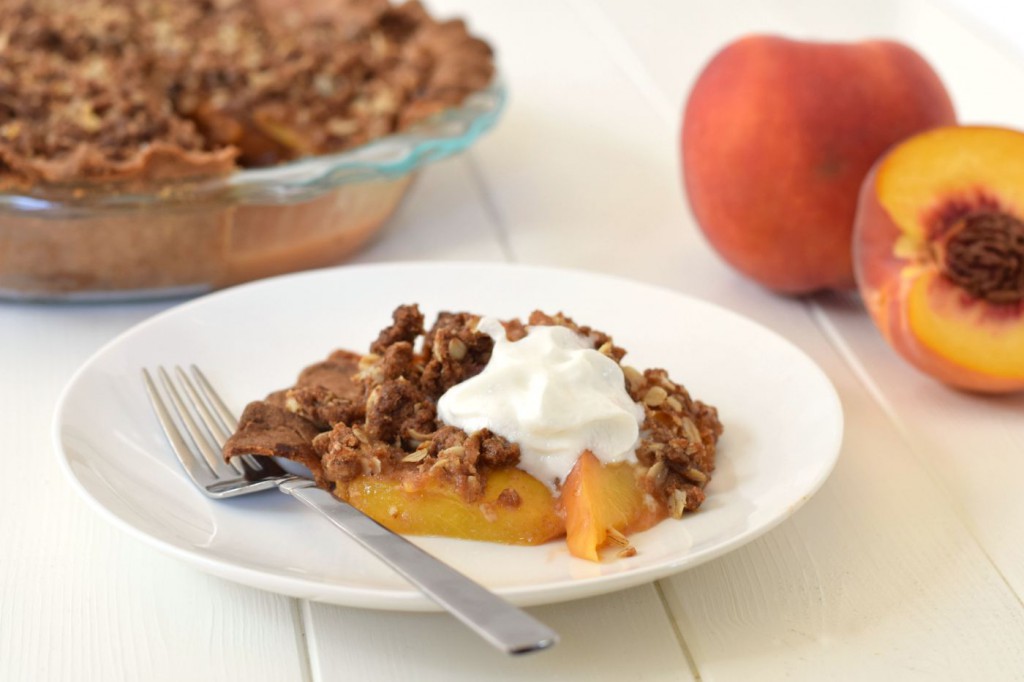 Peach Crumble Pie
Peach pie and peach cobbler come together in a healthy dessert makeover! This Peach Crumble Pie comes with all the flavor, a flakey crust, and a sweet streusel topping - but with whole grains and no refined sugar!
Ingredients
8 cups fresh peaches, pitted and sliced
2 tablespoons unrefined coconut sugar
2 tablespoons whole wheat flour
¾ cup old fashioned oats
¼ cup whole wheat flour
2 tablespoons honey
2 tablespoons butter
½ teaspoon cinnamon
Instructions
Make crust following these instructions. The recipe makes two crusts, so you can either make half or save the other crust for another pie. Form enough dough for one crust into a disk, wrap tightly in plastic, and refrigerate for 1 hour (or up to overnight).
Preheat oven to 375 degrees. Lightly flour a rolling pin and work surface and roll out dough to a 12-inch round. Place in a 9-inch pie plate, fold overhang under, and crimp edges.
In a large bowl, toss together peaches, coconut sugar, and flour until combined.
In a small bowl, combine oats, flour, honey, and cinnamon; using your hands, work in the butter until large clumps form.
Transfer the peach filling to the prepared pie shell, then sprinkle crumble evenly over top.
Place pie on a rimmed baking sheet and bake until the juices are bubbling and the topping is golden, 1 hour to 1 hour 15 minutes. Cover the crust with a thin piece of aluminum foil after the first 45 minutes of baking.
Let cool on a wire rack 1½ hours before serving.
Notes
* Actual nutrition info may vary based on exact ingredients used.
Nutrition Information
Serving size:
1 piece
Calories:
303
Fat:
12g
Saturated fat:
7g
Unsaturated fat:
3g
Trans fat:
0g
Carbohydrates:
45g
Sugar:
22g
Sodium:
93mg
Fiber:
7g
Protein:
6g
Cholesterol:
42mg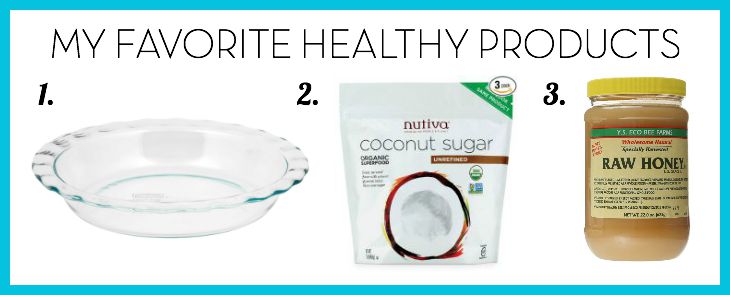 9 Inch Pie Plate: You'll need a good pie plate for all the delicious healthified pies you'll be making soon! I have this Pyrex one – you can find it for less than $15 on Amazon and I love mine!
Unrefined Coconut Sugar: I try to stick with minimally processed/unrefined sweeteners. Honey and pure maple syrup are my favorites, but I love unrefined coconut sugar when I need a granulated sweetener. The cheapest place I've found to get it is Amazon, of course. 🙂
Pure Honey: I read a study a few months ago that showed that most of the honey tested was actually mixed with corn syrup. Since then, I've been more careful to make sure I'm buying pure honey. And, if you've never tried raw honey, I highly recommend it.

Looking for more healthy real food recipes? Checkout these other clean eating pies!
Double Dark Chocolate Coconut Pie
* Some link are affiliates. When you purchase a product through one of these links the cost for you is the same, but I receive a small commission. Thanks for your support!