Whole Grain Chicken Broccoli Cheddar Pockets – Your family will love this healthy, quick, and easy recipe. Perfect for lunch or dinner!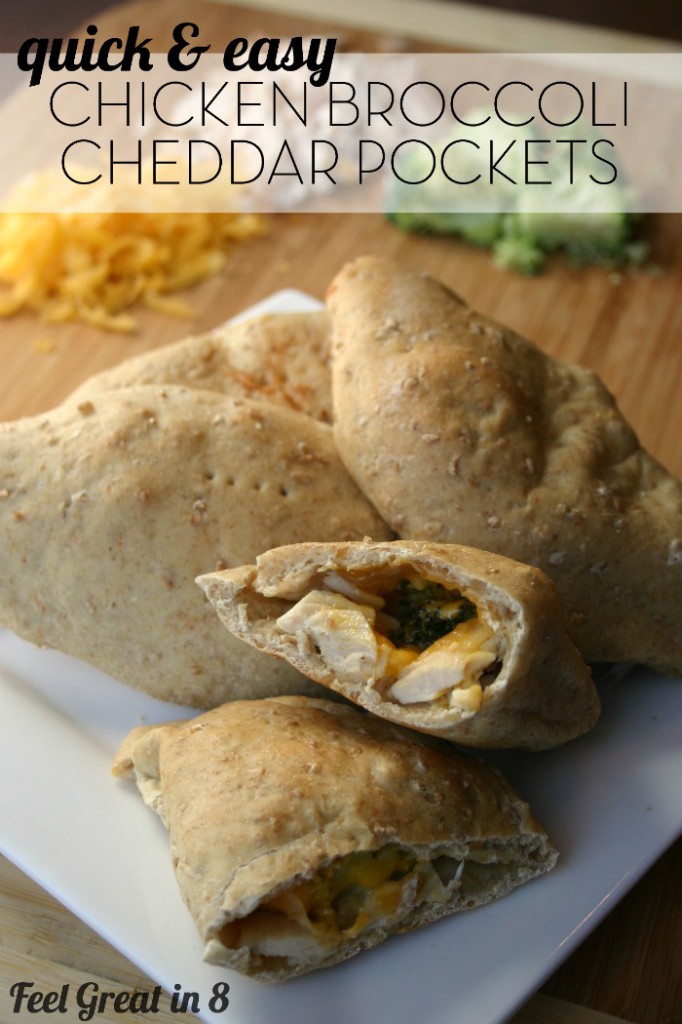 I'm so excited to be back on the Rhodes Bake-N-Serve Blog today! I'm sharing these super quick and easy Whole Grain Chicken Broccoli Cheddar Pockets. They are kid-friendly, super quick and easy to throw together, freeze beautifully, and make awesome leftovers for lunch!
Last week my 7 and 9 year old kids help me make a huge batch. We used a rotisserie chicken from Costco, 2 bags of Rhodes Cracked Wheat Rolls, and a big head of broccoli. The whole thing took us less than 45 minutes and now I have at least a few super easy dinners and lunches to last a good month in my freezer. It seriously doesn't get easier than that!
These are perfect for a simple work lunch too. I sent a big bag full for my husband to keep in the office freezer. All he has to do is throw one or two in the microwave and he has a quick and healthy lunch with almost 4g of fiber and 15g of protein! Not to mention the fact that they are way less expensive than buying lunch!
Anyway, enough chit chat. 🙂 Click on the title or photo below to see the recipe! I hope your family loves them as much as mine does!
Whole Grain Chicken Broccoli Cheddar Pockets
Whole Grain Chicken Broccoli Cheddar Pockets
Whole Grain Chicken Broccoli Cheddar Pockets have been a favorite quick and easy dinner recipe of mine for years. Actually, I grew up with my mom using Rhodes rolls to make these for me.
Ingredients
1 package (24 rolls) Rhodes Cracked Wheat Rolls
1 pound chicken cooked and cubed
1 small head of broccoli, washed and chopped
2 cups of shredded cheddar cheese
Instructions
Thaw Rhodes Cracked Wheat Rolls - I just cover mine in plastic wrap sprayed with a little olive oil and leave them to thaw on the counter
Chop your broccoli and chicken and shred some cheddar cheese.
Next, flatten each thawed roll into a 5 inch circle and top each circle of dough with a heaping tablespoon full of each ingredient.
Pull the dough around the ingredients until the sides meet and a pocket is formed. Pinch together the edges of the dough to seal in the ingredients. If your dough has been out long enough to feel dry, wet your finger and moisten the edges of the dough so that it sticks well.
Place each pocket on a cookie sheet sprayed with olive oil or nonstick spray.
Bake at 350 degrees F for 15-20 minutes, or until the tops and bottoms are golden brown.
Nutrition Information
Serving size:
1
Calories:
216
Fat:
7
Carbohydrates:
26
Sugar:
4
Fiber:
3.7
Protein:
14.9
*Nutrition info may vary based on exact ingredients used. Find complete nutrition info on my MyFitnessPal as FG8 Whole Grain Chicken Broccoli Cheddar Pockets.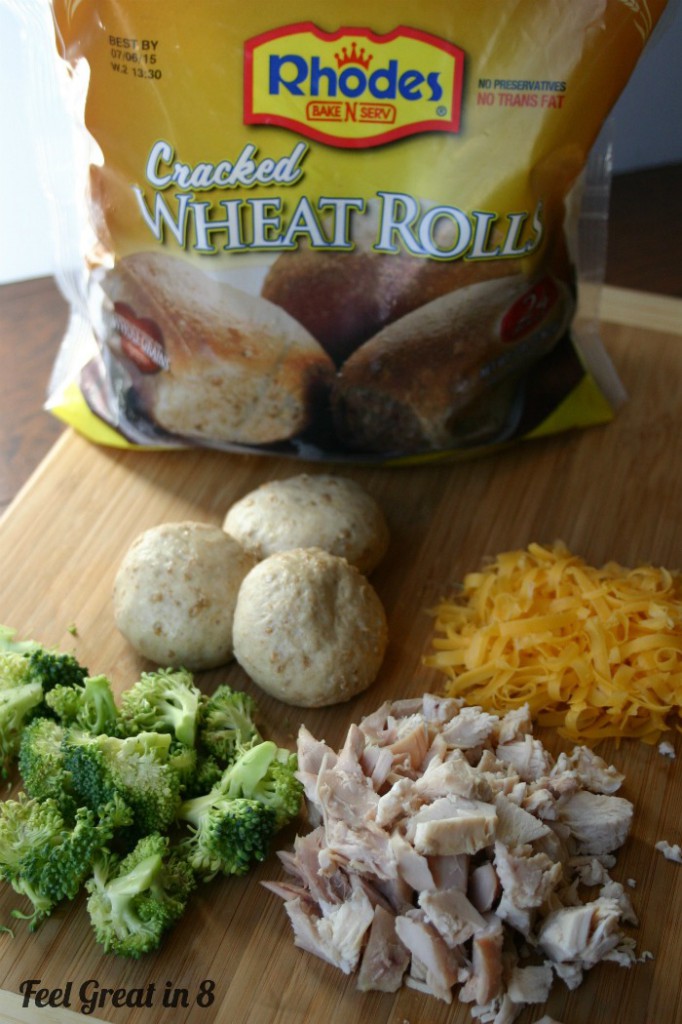 Looking for more healthy real food recipes?
Ultimate Gourmet Grilled Cheese Sandwich
Fresh Green Salad in a Jar
Healthier Chicken Salad
Slow Cooker Lemon Pepper Chicken