This simple and delicious grilled pineapple is the perfect healthy dessert for your next bbq!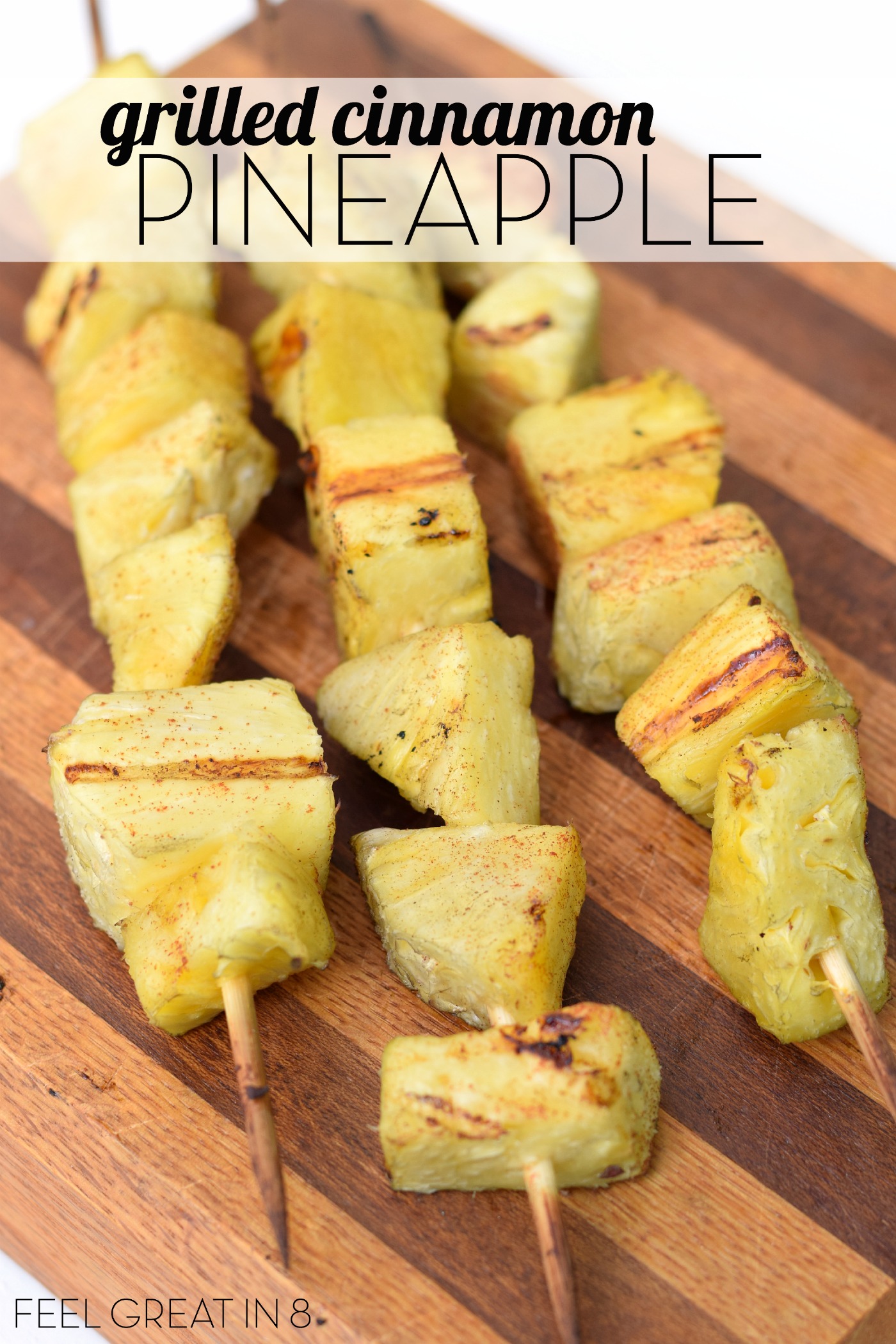 Yay for grilling season! I absolutely love this time of year because healthy meals and desserts don't get easier or more delicious than when you cook them on a grill. Plus, you can't beat the easy cleanup and the joy of eating outdoors. It's pretty much the best!
My husband and I love grilling new things. We've tried eggplant, flatbread, and even peaches. I'm pretty sure, everything is delicious grilled, but this simple grilled pineapple is one of my all time favorite! You can either cut the pineapple into long strips, or do small chunks on skewers like I did here, sprinkle with a little cinnamon and throw them on the grill!
It seriously takes just a few minutes to throw the skewers together and it makes the perfect healthy dessert, sweet and juicy but without any of the regret! They would also be perfect to take along to all your grilling parties. Just put them on when the rest of the grilling is done and dessert is ready in 10 minutes!
Anyeay, I hope you'll pull out and fire up your grill this summer too. And, when you do, definitely give this simple and sweet grilled pineapple recipe a try.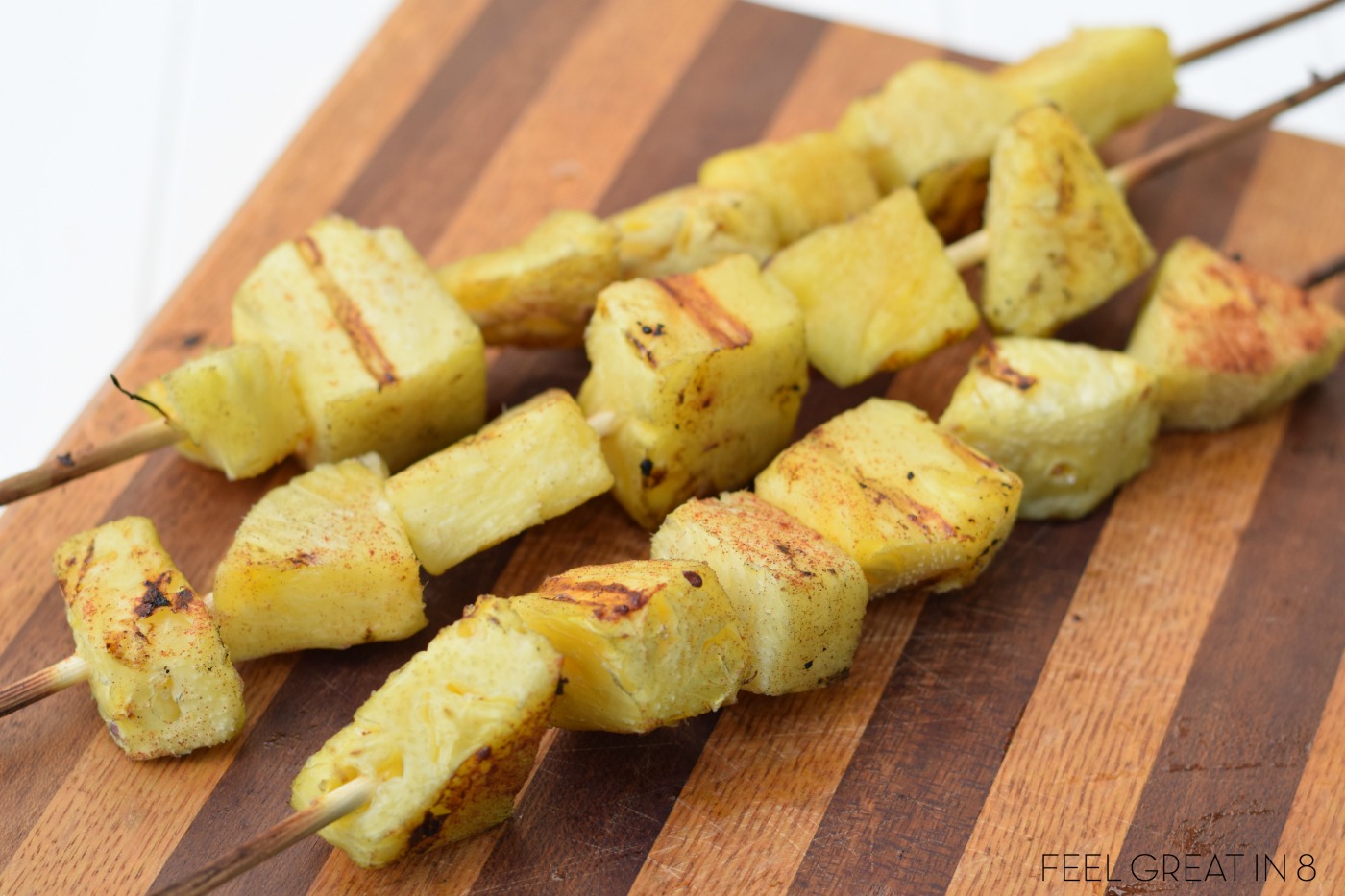 Grilled Pineapple
This simple and delicious grilled pineapple is the perfect healthy dessert for your next bbq!
Ingredients
4 cups fresh pineapple chunks*
1 teaspoon cinnamon
4 bamboo or metal skewers

*If you can, I recommend using fresh pineapple, not canned. If you don't want to take the time cutting it yourself, you can buy the precut fresh pineapple in the produce section and that works great too.
Instructions
Preheat grill on high. If you're using bamboo skewers, put them in a shallow dish or pan and cover in water. Soak for 5-10 minutes.
Load all of the pineapple onto the skewers. Sprinkle with cinnamon.
Grill for 4-5 minutes per side, about 10 minutes total, or until pineapple is tender. Enjoy!
Nutrition Information
Serving size:
1 cup
Calories:
76
Carbohydrates:
20g
Fiber:
2.5g
Protein:
0.9g

1. Bamboo Skewers: These are the cheapest and easiest way to do meat or fruit skewers on the grill. I just soak mine in water for 5-10 minutes before loading them up and then toss them when we are done. You can get this bag of 200 on Amazon for $5.00.
2. Shish Kabob Set: I was just searching for a Father's Day gift for my husband and found this awesome set! This will make putting skewers on the grill and flipping them so easy! I'm excited to get it for him so we can try it out! 🙂
3. Grill Pan: This is perfect if you don't have an outdoor grill or even just on rainy or cold days, you can still make delicious grilled food on your stovetop! I don't have one yet, but this one is on my wish list. It is a great day and has awesome reviews.

Looking for more healthy real food recipes? Check out these healthy summer desserts!
Strawberry Salsa & Baked Cinnamon Chips
Coconut-Lime Crack Bars
3 Ingredient Coconut Banana Cookies
Dark Chocolate Brownies
Strawberry Frozen Yogurt