Healthy Dark Chocolate Truffles – You'd never guess the healthy secret ingredient in this decadent dessert! Vegan, paleo, naturally sweetened, and delicious!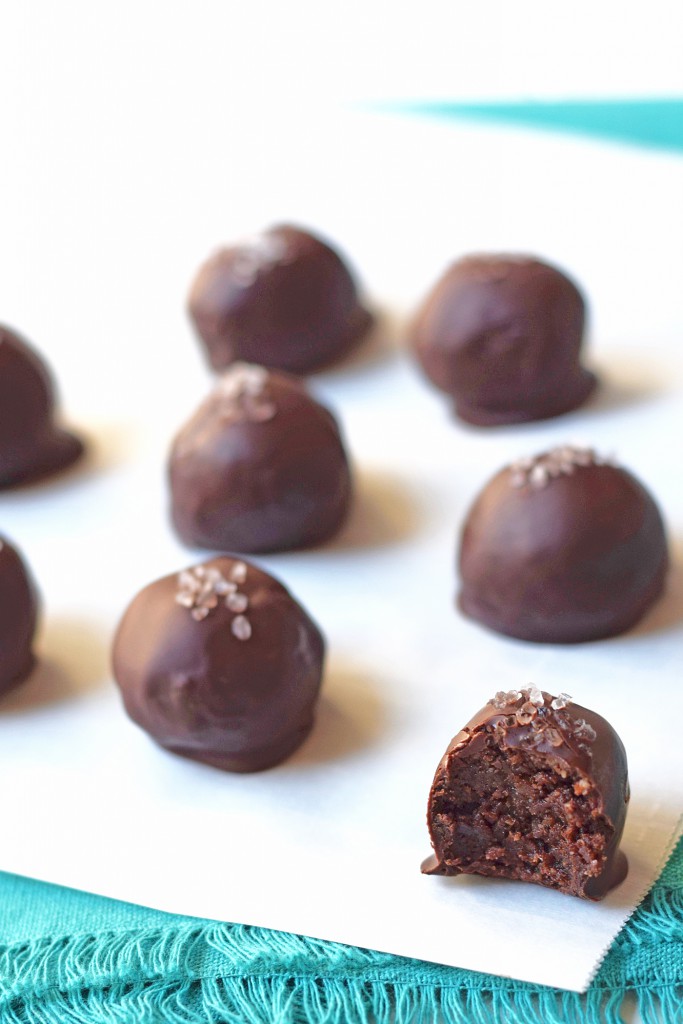 I wish so bad I could reach through the computer and let you try these amazing truffles. They are so rich and chocolaty, you'd seriously never guess they are made with healthy ingredients.
Speaking of ingredients, before you look at the recipe, promise me you'll give these and try and not let the dates scare you. I know, I know, they don't sound like the most appetizing dessert ingredient, but I swear you'd never even guess they are in there. They add the perfect amount of sweetness and give these truffles the most amazing fudgy texture. Really, you gotta trust me on this one.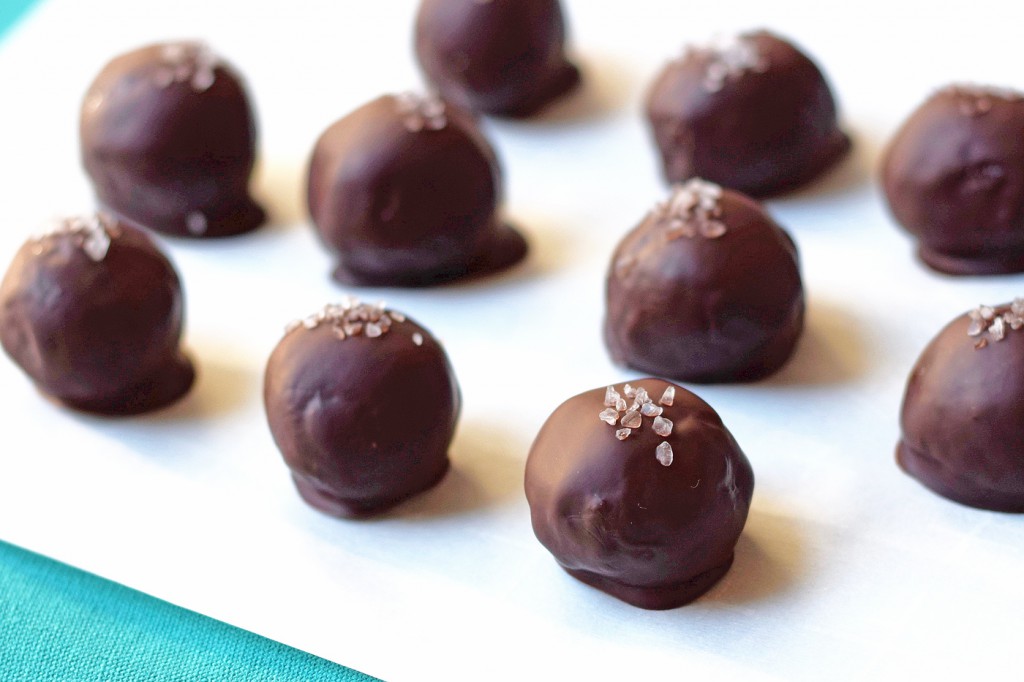 Also, you should be able to find dates in your normal grocery store. The cheapest way I've found to buy them is in the bulk bins at my local Smith's. But, I've also seem them packaged in the produce section. Don't stress the exact kind. I know some recipes call for medjool dates specifically, but I generally go for the cheapest option and every kind I've tried has worked great.
Run, buy some dates and give these a try! You're going to love them.
Dark Chocolate Truffles
Healthy Dark Chocolate Truffles - You'd never guess the healthy secret ingredient in this decadent dessert! Vegan, paleo, naturally sweetened, and delicious!
Ingredients
14 dates
½ cup almonds*
¾ cup almond meal
¼ cup cocoa powder
1 teaspoon vanilla
½ teaspoon sea salt
70% dark chocolate bar (3.5 ounces)
coarse sea salt for topping, optional
* You can substitute your favorite nuts.
Instructions
Put the dates in a small bowl and cover in hot water. Let soak for 5-10 minutes, drain, and squeeze out the excess water.
Add the almonds, almond meal, and cocoa powder to a food processor or high quality blender. Pulse or blend until finely ground. Add the dates and ½ teaspoon sea salt and blend until a thick dough ball forms.
Remove the dough and roll into small balls. Put the balls on a dish lined with parchment paper. Freeze for 20-30 minutes.
Break the chocolate bar into a microwavable dish and melt for 30 seconds at a time, stirring in-between until completely melted. You may want to start by only melting half of the bar. Depending on how thickly you coat the truffles, you'll only use about half.
Roll each truffle in the melted chocolate and put back on the parchment paper. Top with a little course sea salt or coconut.
When all of the truffles have been covered in chocolate, put the dish into the fridge until the chocolate hardens.
Store truffles in the refrigerator in an air tight container.
Nutrition Information
Serving size:
1 truffle
Calories:
78
Fat:
6 g
Carbohydrates:
5 g
Sugar:
2 g
Sodium:
144 mg
Fiber:
2 g
Protein:
2 g
Cholesterol:
0 mg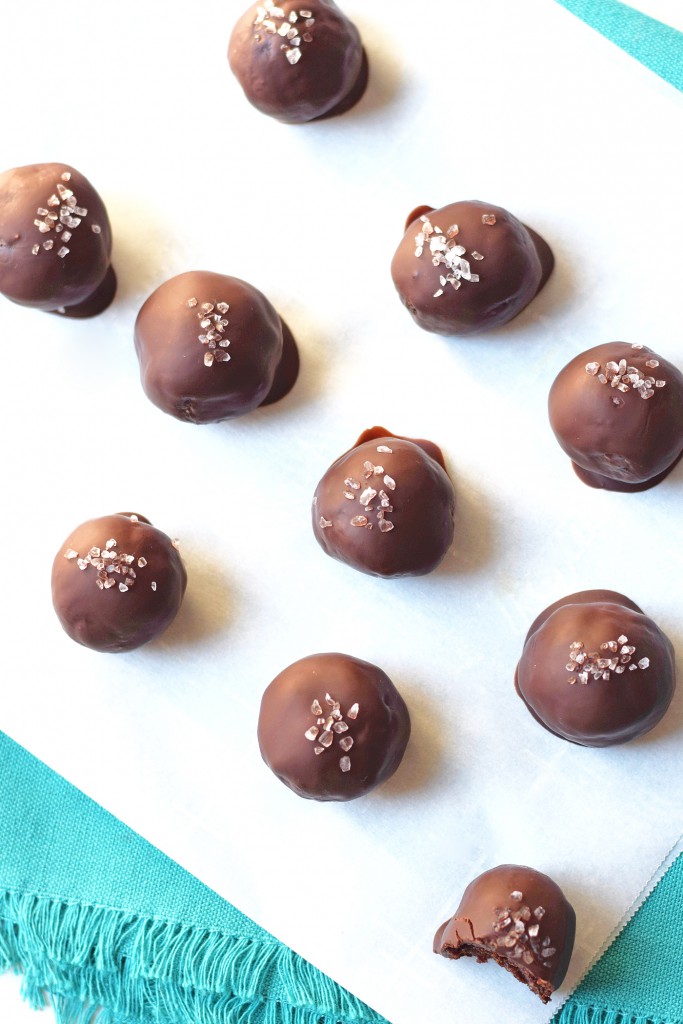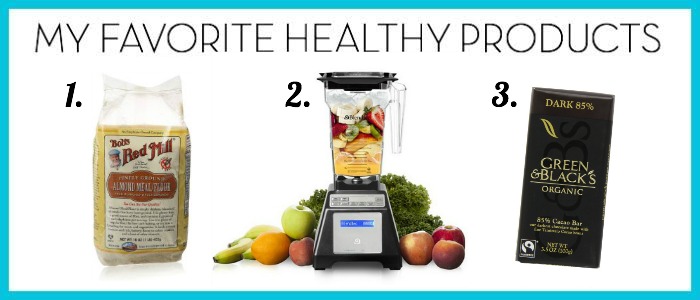 1. Almond Flour: If you're an almond fan, you definitely need to have some almond flour in the house. It's great in lots of gluten free recipes. I use this Bob's Red Mill brand.
2. Blendtec Blender: I love, love, love my Blendtec! Getting a powerful blender is definitely an investment, but I use mine at least once a day and I love knowing that the 7 year warranty is there. I actually burned the motor out on my first one and they replaced it no questions asked. I use mine for the usual smoothies and batters, but I also love it for grinding wheat into flour and of course making homemade ice cream and frozen yogurt! You can get one new at Costco or on Amazon for around $350, or you can get one refurbished with the original warranty for $280 from Blendtec right HERE.
3. Green & Black's Organic Dark Chocolate: There are lots of great brands of dark chocolate, but this organic brand is one of my favorites. Just make sure you look for 70% cocoa or higher, so you don't miss out on all the great health benefits.
Looking for more healthy dessert recipes?
* Some links are affiliates. The cost is the same for you, but I get a small commission. I never recommend any products that I don't sincerely believe in.