This is about as simple as healthy meals get! Make this 1 healthy slow cooker chicken recipe and then serve it 5 different, delicious ways!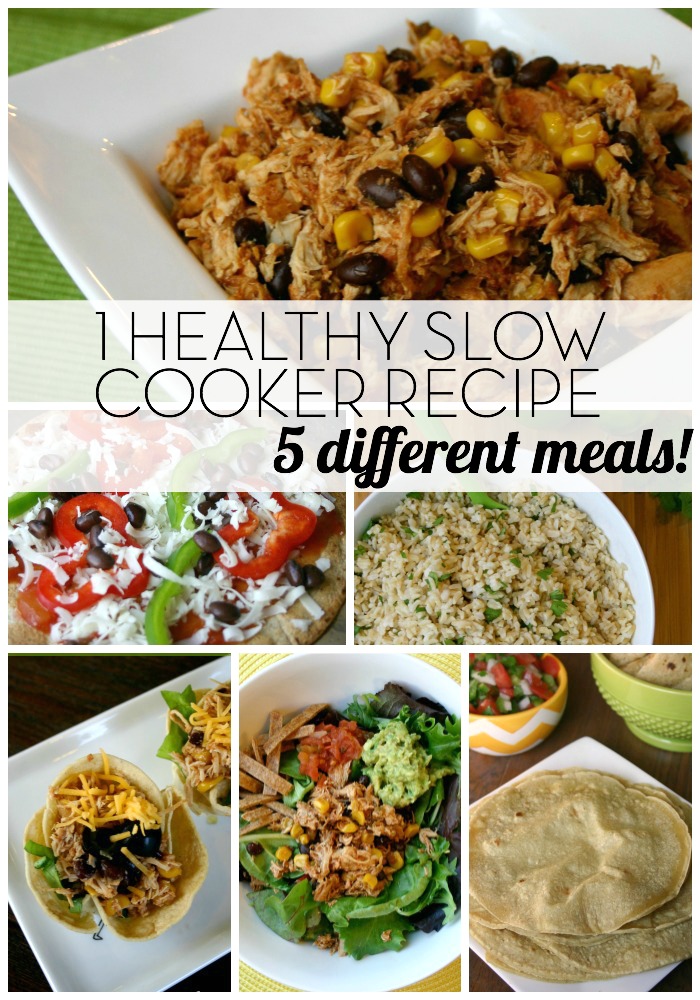 I know you all have those weeks where activities, meetings, and responsibilities have you running like crazy! THIS healthy slow cooker chicken recipe collection is the solution! It takes literally a few minutes of prep on Monday to make a big batch of this Salsa Chicken in the Slow Cooker. Then, with a few tweaks, you can turn that one recipe into 5 different meals for you and your family!
First, start with this recipe for Ridiculously Easy Salsa Chicken in the Slow Cooker. If you have a big family or older kids, you can double the recipe. NOTE: Make sure you use a big enough (6 or 7 quart) slow cooker for a big batch of the chicken – I have one of the cheap Manual Crock Pot Slow Cookers that works great!
Then, just mix-it-up each night for dinner, or on a few afternoons for lunch! To save even more time, you can go with store bought tortillas. I love the Tortilla Land uncooked tortillas when I don't do homemade.
1. Use it as a filling in Homemade Corn Tortillas or lettuce leaves with a little avocado, cheese and sour cream.
2. Serve in Baked Mini Taco Salad Bowls for a fun dinner for little hands!
3. Salsa Chicken Salad – Top lots of greens with the salsa chicken and Homemade Baked Tortilla Strips – this is one of my favorite lunches!
4. Create a tasty rice bowl with this quick and easy Cilantro-Lime Brown Rice.
5. Use the salsa chicken as a topping for Mexican Pizza, or as a filling in cheese quesadillas with Whole Wheat Tortillas.
ENJOY!
Looking for more quick and easy dinners? Checkout these healthy real food recipes…
Whole Grain Chicken Broccoli Cheddar Pockets
Slow Cooker Lemon Pepper Chicken