This Chicken Enchilada Casserole recipe is simple to make, gluten-free and super delicious! It's sure to be a healthy family favorite!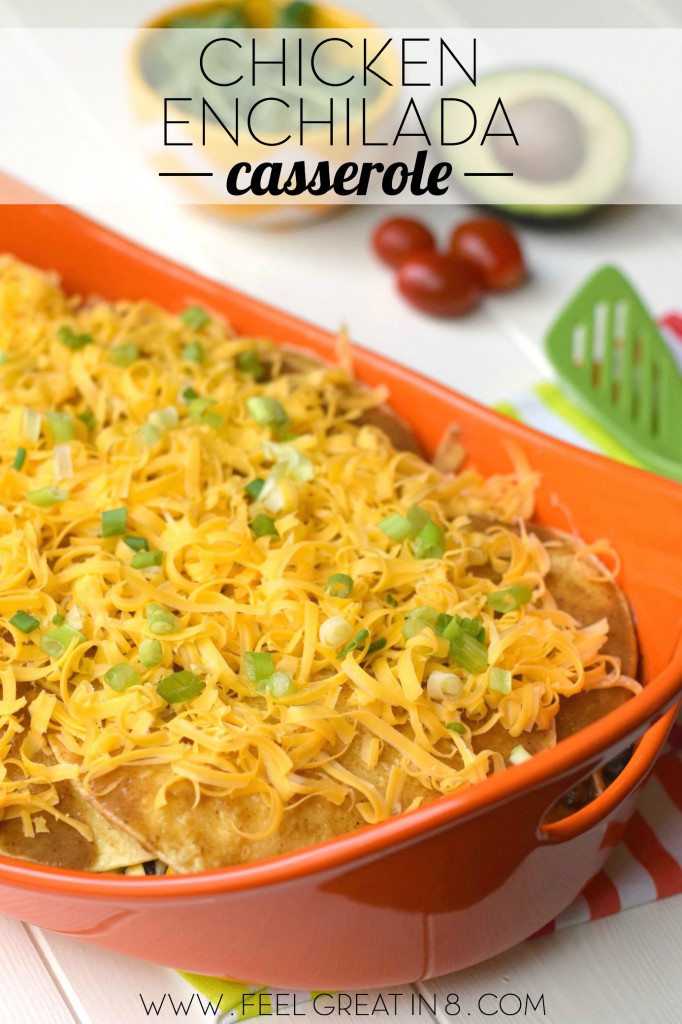 I'm a huge Mexican food fan. Tacos, burritos, taquitos, and especially enchiladas.
But … they aren't exactly the easiest foods to add to a healthy diet. Since most of it is fried and/or smothered in a crazy amount of cheese, you can easily eat your entire day's calories in one dish.
Don't worry though, I've got the perfect healthy recipe to fix the problem!
Homemade versions of your Mexican food favorites can be just as delicious, but so much better for you! This chicken enchilada casserole (aka stacked chicken enchiladas) is the perfect example. It's one of the most requested recipes at my house, so delicious, and so much healthier!
Healthy Tip: Use an extra sharp cheddar cheese. You can add less cheese, cut back on calories, and still enjoy the same yummy cheesy flavor.
I hope you enjoy this recipe as much as we have!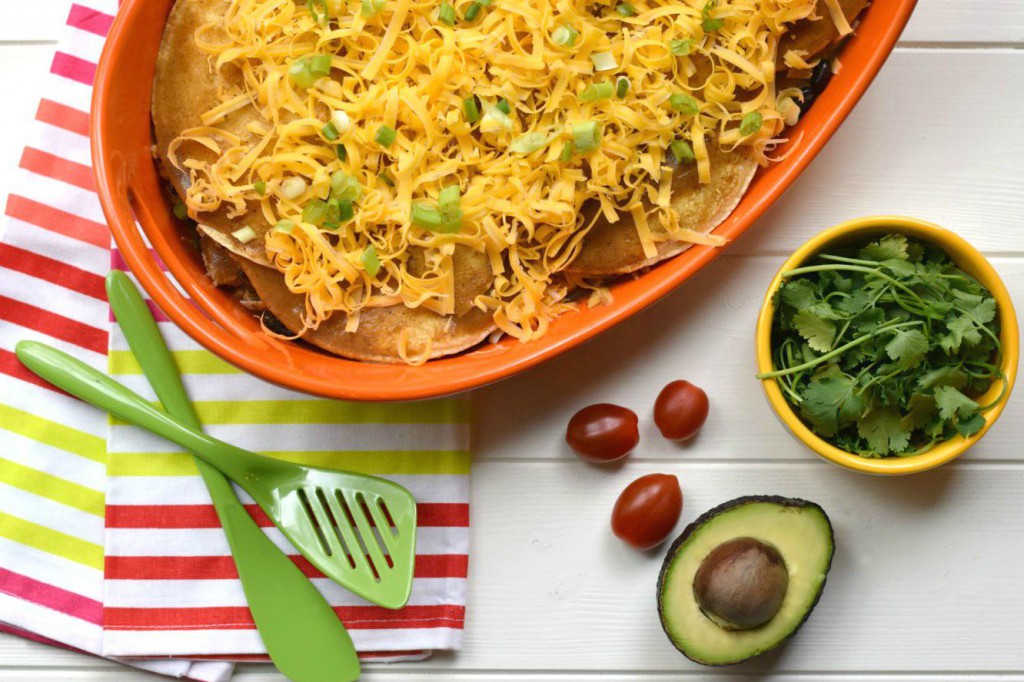 Chicken Enchilada Casserole
This Chicken Enchilada Casserole recipe is so simple to make, gluten-free and super delicious! It's sure to be a healthy family favorite!
Ingredients
3 cups red enchilada sauce, homemade or store bought*
16 corn tortillas
2 (15 ounce) cans black beans, rinsed and drained
1 (15 ounce) can whole kernel corn, drained
6 green onions, thinly sliced
4 cups (about 1.5 pounds) shredded cooked chicken
3 cups shredded sharp cheddar cheese
1 avocado, peeled, pitted and diced
½ cup chopped fresh cilantro
Instructions
Heat oven to 375 degrees F. Coat a 9x13 inch baking dish with olive oil or butter.
Pour about ¾ cup enchilada sauce in the baking dish and spread until the bottom of the dish is coated. Top with a layer of about 8 tortillas so that the entire dish is covered. Feel free to tear the tortillas in halves. Sprinkle evenly with about 1 cup black beans, ½ cup corn and ¼th of the green onions. Then top with a heaping cup of the chicken and about ¾ cup of cheese.
Repeat with a second layer of tortillas, then sauce, then beans, corn, green onions, chicken, and cheese. Then a final layer of tortillas, sauce, beans, corn, green onions, chicken and cheese.
Finish with a final layer of tortillas and sauce, reserving about ¾ cup of cheese to add during the baking.
Cover the pan with aluminum foil, then bake for 20 minutes.
Remove the foil, sprinkle with remaining cheese, then return to the oven (uncovered) and bake for 10 more minutes, or until the cheese is melted.
Remove pan from the oven. Sprinkle with avocado, cilantro, and remaining green onions. Serve warm and enjoy!
Notes
* If you're wanting this recipe to be gluten free, make sure to double check every ingredient to make sure they are made gluten free.
Nutrition Information
Serving size:
⅛th
Calories:
410
Fat:
10.9
Saturated fat:
4
Unsaturated fat:
3.7
Trans fat:
0
Carbohydrates:
42.8
Fiber:
8.7
Protein:
33.3

 1. Rachel Ray Stoneware: I have absolutely loved this stoneware. Not only is it gorgeous (I adore the orange, but it also comes in purple, red, blue, and yellow), but it cooks and cleans up beautifully. They are totally affordable too. You can find them on Amazon, or I've seen a few pieces at Target.
2. Homemade Red Enchilada Sauce: This obviously isn't a "product," but it is my favorite recipe for homemade enchilada sauce. It is super easy and the flavor is amazing. I highly recommend it if you have a few minutes to try homemade. You can get it right here on Gimme Some Oven.
3. Homemade Corn Tortillas: Okay, okay, another one that isn't a product. But, homemade tortillas really are so much better than store bought. They are so simple to make and using homemade sauce and tortillas really take this recipe to the next level. You can find my recipe right here – Homemade Corn Tortillas.
Looking for more healthy real food recipes? 
Strawberry Salsa & Baked Cinnamon Chips
Ridiculously Easy Salsa Chicken