Healthy Real Food Meal Plan – One week of clean eating breakfast, lunch, dinner, and snacks planned! Includes ALL the healthy real food recipes and nutrition info!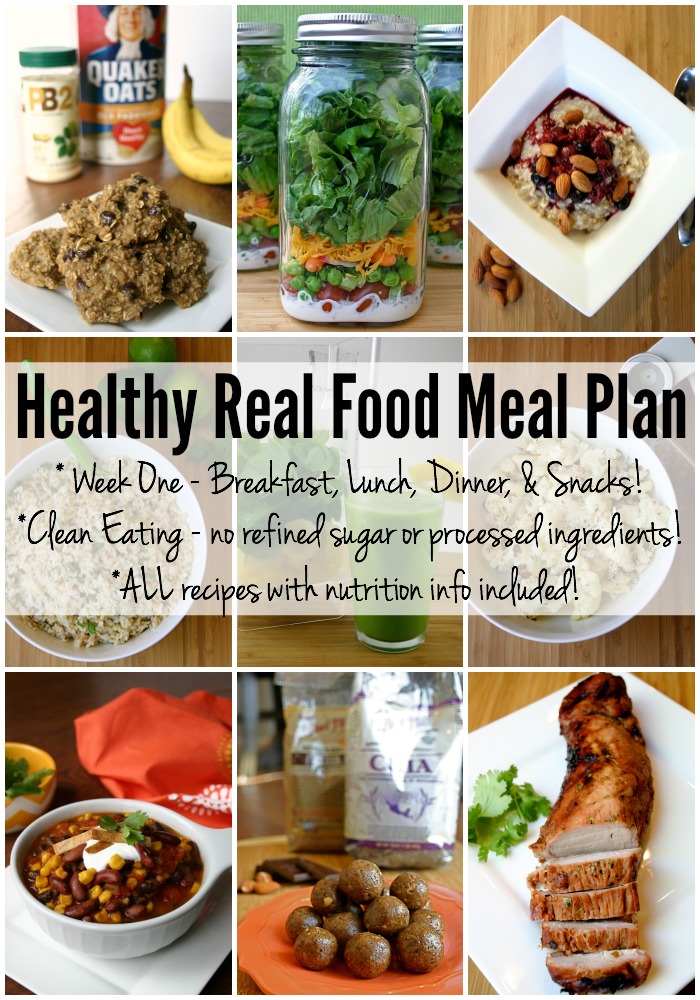 I've been meaning to share my meal plans on the blog for a long time, but a few things have held me back. First, I haven't had as much time as I'd like for actual blogging lately. The Feel Great in 8 Challenge is growing like crazy, which means I get to spend most of my time running that side of things and interacting with awesome and inspiring participants. I really love doing it, so I'm not complaining at all, it just means I have less time to write posts, or to create and photograph new recipes. Which, leads me to the second reason I've been hesitant to start posting these, I'm totally boring in real life. 😉 Really though, I don't create new and exciting recipes every day of the week. I'm beat by the end of the day and some nights it's all I can do to throw some sandwiches together for dinner. And really, we rotate through a lot of the same favorite meals at our house.
Anyway, hopefully you didn't come here looking for an elaborate/fancy meal plan. If you're anything like me, you just need a few new ideas and some simple recipes. So, here you go – a Healthy Real Food Meal Plan. This is a general idea of what we'll be eating at my house next week, along with all the healthy real food recipes! Actually, I'll be living it up on a cruise/blogger conference next week, so this is what my sweet husband and kiddos will be having. I'm emailing him a link to this post when It's done so he knows what to do. I love and miss you babe! 😉
HEALTHY REAL FOOD MEAL PLAN – WEEK ONE
MEAL PREP: This list are the things I will prep ahead of time. I usually use Saturday mornings to do meal prep for the following week, but you can do whatever works for you!
3 Ingredient Peanut Butter Banana Cookies
Healthy Energy Bites
Vegetable Pot Pie (If I have time, I love to make 2 or even 4 of these at a time and throw them in the freezer.)
Fresh Green Salads in a Jar
Wash and cut veggies and fruit for snacks.
BREAKFAST:
Monday: Overnight Steel Cut Oatmeal (I usually do a "toppings bar" for me and the kids – I just set out nuts, raisins, frozen fruit, cinnamon, peanut butter, etc. and let everyone choose their toppings.)
Tuesday: Strawberry Orange Spinach Smoothies & almond butter toast
Wednesday: Eggs & 3 Ingredient Peanut Butter Banana Cookies
Thursday: Overnight Steel Cut Oatmeal
Friday: Eggs & 3 Ingredient Peanut Butter Banana Cookies
Saturday: Peaches & Cream Crepes
Sunday: Granola or low sugar/high fiber cold cereal
LUNCH: This is where I am really boring. I alternate between basically these three things… (I'm not sure my husband is going to go for these options as easily. ;))
Fresh Green Salad in a Jar
Dinner Leftovers
Greek yogurt with fruit and fresh veggies with hummus.
DINNER: We are a small family and our kids are still little, so we are usually able to get away with 2 nights of leftovers a week. That will be especially true on this menu with a few big batches made in the crock pot.
Monday: 10 Minute Taco Soup
Tuesday: Creamy Chicken & Potatoes in the Slow Cooker
Wednesday: Leftovers
Thursday: Pork Carnitas Tacos from 100 Days of Real Food
Friday: Vegetable Pot Pie
Saturday: Leftovers
Sunday: Chipotle-Lime Pork Tenderloin on the grill, Cilantro Lime Brown Rice, & Roasted Cauliflower
SNACKS:
3 Ingredient Peanut Butter Banana Cookies
Healthy Energy Bites
Fresh fruit & Peanut Butter Greek Yogurt Fruit Dip
Fresh veggies & hummus
Caramel Pecan Apple Nachos
I hope you all have a fantastic week! Remember to focus on progress, not perfection! 🙂
Looking for more healthy real food recipes and meal ideas? Checkout my new eBook  –         8 Weeks to a Healthy Lifestyle Made Simple!! With OVER 100 recipes and meal ideas, a healthy lifestyle has never been so simple!